Review:
"Many Aero fans will point to Toys as the band's quintessential album…but out of all their albums, Rocks did the best job of capturing Aerosmith at their most raw and rocking." GP "Few albums have been so appropriately named." GP This is the band "at a crazily driven peak of creativity; anyone who heard it and continued to dismiss them as mere Stones clones was just being willful. This is blues rock cranked up to '70s stadium level, the sound of the Trans Am, or maybe the Porsches several of these guys (surprisingly) remember driving." RW
"Like its predecessor, a pair of songs have become their most renowned – the menacing, hard rock, cowboy-stomper Back in the Saddle, as well as the downright viscous funk groove of Last Child. Again, even the lesser-known tracks prove essential to the makeup of the album, such as the stimulated Rats in the Cellar (a response of sorts to 'Toys in the Attic')…and the forgotten riff-rocker Get the Lead Out." GP
"Also included is the apocalyptic Nobody's Fault, the up-and-coming rock star tale of Lick and a Promise, and the album-closing ballad Home Tonight. With Rocks, Aerosmith appeared to be indestructible." GP
However, "they'd soon crash, and hard, thanks to their own excesses." RW "The psychic battering they would succumb to on the next year's Draw the Line is foreshadowed in Joe Perry's" RW "Stonesy Combination." GP "The party-fueled tension, the tension-fueled party." RW
---
Review Source(s):
---
Related DMDB Link(s):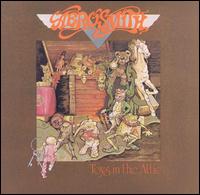 ---
Last Child (on MTV Unplugged:
---
Back in the Saddle (live):
---

Click on box above to check out the DMDB on Facebook.
---
Last updated March 28, 2011 (individualized for each page).