Review:
"Take on Me exploded in the States and the group never cracked the top of the charts again" (DiGravina), "though the band spawned many further hits across the rest of the world" (DiGravina). That song "is a new wave classic laced with rushing keyboards, made emotionally resonant thanks to Morten Harket's touching vocal delicacy. It didn't hurt in the era of MTV that the song's video was a hyperkinetic blend of mind-warping animation and filmed footage with a romantic thriller's heart. Harket's hunky physique and cheekbones also didn't hurt the video's chances at heavy rotation" (DiGravina).

However, "anyone who dismissed a-ha as a one-hit wonder…missed out on the band's fine debut, Hunting High and Low" (DiGravina). "It's a shame, because the album contains a handful of songs that nearly match the manic energy and emotional crack of its big hit" (DiGravina).

"The Sun Always Shines on T.V. is just as thrilling. Starting as a sad ballad, it explodes into something much more, as chugging guitars and operatic synths keep pace with Harket's evocative vocal stylings. If ever a 1980s song qualified as Wall of Sound, 'The Sun Always Shines on T.V.' would be it" (DiGravina).

"The remainder of the album sees a-ha switching deftly back and forth between dramatic overtures and classic new wave keyboard motifs. Train of Thought and Love Is Reason are reminiscent of early Depeche Mode or Camouflage, but Harket's rich voice and flair make them purely a-ha. The band explores decidedly European terrain in the theatrical Hunting High and Low and dances a pop waltz with the sweet Living a Boy's Adventure Tale, coming across like a marriage between the Blue Nile and Alphaville. Delightful song snippets The Blue Sky and And You Tell Me act as frosting on the cake or as glue between the theater and the dancefloor" (DiGravina).

"One can't escape the feeling that Hunting High and Low is a product of the 1980s" (DiGravina), but this is "a cohesive album with smart pace changeups, and it rarely fails to delight or satisfy a listener's need for a synth pop fix" (DiGravina). "With highs like 'Take on Me' and 'The Sun Always Shines on T.V.,' and no lows in sight, a-ha's debut is a treat worth relishing" (Raggett).
---
Review Source(s):
---
Related DMDB Links: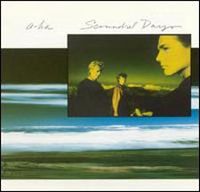 ---
Last updated January 18, 2009.