Review:
After becoming wildly successful in the U.K. with their 2006 debut album Whatever People Say I Am, That's What I'm Not, the Arctic Monkeys quickly released a follow-up with 2007's Favourite Worst Nightmare. Showing no signs of slowing down the band had already started working on songs for album #3 "towards the end of summer 2008, and finished it entirely on spring 2009." WK
The resulting album, 2009's Humbug, was recorded entirely in the United States. As on their previous album, and Turner's side project, the Last Shadow Puppets' The Age of the Understatement, the band tapped James Ford as a producer. WK However, they also enlisted Queens of the Stone Age's Josh Homme. "On first glance, it's a peculiar pair – the heirs of Paul Weller meet the heavy desert mystic – but this isn't a team of equals, it's a big brother helping his little siblings go wayward and get weird." STE Homme, "renowned for his collaborations but heretofore untested as a producer" STE "doesn't imprint his own views on the Monkeys but encourages them to follow their strange instincts, whether it's a Nick Cave obsession or the inclination to emphasize atmosphere over energy." STE
Cave is only one of the influences Turner and the band's drummer Matt Helders have cited as influences on the album. They also turned to Jimi Hendrix, Cream, Jake Thackray, John Cale, and Roky Erickson. WK
The result is an album that is "not always immediately accessible or pleasurable to an outside listener" STE but "the Monkeys still favor angular riffs and clenched rhythms, constructing tightly framed vignettes not widescreen epics." STE "They're working with a darker palette and creating vaguely abstract compositions, sensibilities that extend to Alex Turner's words too, as he trades keen detail for vivid scrawled impressions. Every element of the album reflects a band testing its limits, seeing where they could – not necessarily will – go next." STE "Humbug makes two things clear: Arctic Monkeys are serious about being in a band, about making music, and they are the first major British band in generations unencumbered by fear or spite for America." STE
Many critics praised "the band's newfound maturity;" WK Billboard magazine said that the band justifies "the hype by shifting its best qualities into different, equally dazzling shapes" WK while The Record Review said that with Humbug the band "surpasses most of its colleagues in terms of songwriting and performance ability." WK While Pitchfork's Joe Tangari noted that the album "isn't better than either of its predecessors, but it expands the group's range… and…demonstrates a great deal of staying power for a band that could have imploded before it ever got this far." WK
"While overall response was positive, the album was criticized by some for not containing the same hooks" WK as previous efforts. In particular, Spin called the album "accomplished, but not particularly infectious." WK
---
Review Source(s):
---
Crying Lightning (video)
---
Cornerstone (video)
---
My Propeller (video)
---
Related DMDB Link(s):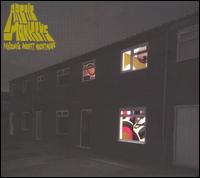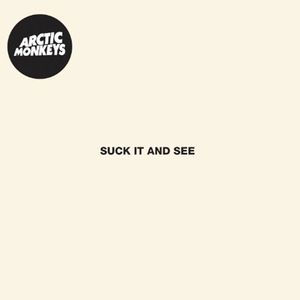 ---

Click on box above to check out the DMDB on Facebook.
---
Last updated June 8, 2011.