Review:
In 2006, the Arctic Monkeys arrived as the British answer to America's garage-rock-revival specialists The Strokes. Thanks to effective Internet marketing, the Monkeys were quickly embraced by the U.K. market and the subsequent album, Whatever People Say I Am, That's What I'm Not became the quickest-selling debut in U.K. history. Only five years later, the Monkeys are churning out their fourth album while the Strokes have released only one album since the Arctic Monkeys' Whatever.
On that debut, "snideness was their calling card, if not the entirety of their post-millenial rebel pose. The breathless rockers that characterized their first two records relied on careening tempos and breakneck direction-changes as sonic points of interest, but the name of the game at the time was [singer Alex] Turner's lyrical invention. Dense and vivid narratives of working-class rogues and dissolute clubbers slashed their way to the listeners' imaginations…Those songs were observant, trenchant, unpredictable, and often very funny. But, nonetheless, snide. Snide in the very best sense of the word, but still snide." RL
"Then came the third Arctic Monkeys album, Humbug, in 2009, and with it a subtle migration out of the established comfort zone. Largely produced by James Ford (also the dial-twiddler for [the band's sophomore album] Favourite Worst Nightmare and the new record in question), a few tracks were also set down with Josh Homme of Queens of the Stone Age acting as overseer, and the smoothing down of the band's notoriously spiky compositions was a not-unexpected result. The dreaded 'M' word (maturity) was bandied about in not a small number of Humbug reviews, but it was hardly a set of toe-tappers and sappy ballads about mortgages and adorable children. If anything, the honing (the Homme-ing?) of Turner's melodic sensibilities threw the quality of his songwriting into sharper relief. His lyrical twists and turns were as compelling as they'd always been, but freed from the frantic dynamics of the youthful Monkeys, they worked better as pop songs than they did as rapid-fire rhythmic dime-store sociology." RL
Promising a more "vintage style" WK in comparison to the "heavily produced sound of Humbug," WK the band's previous album, the Monkeys recorded much of the album "in live takes with producer James Ford in Los Angeles, California, over five weeks in January/February 2011." WK Singer Alex Turner said "that rather than going into the studio with only rough sketches of songs, and making heavy use of overdubbing, the band focused much of their time on rehearsing together." WK In a March 19, 2011 interview, drummer Matt Helders said the album would be "a bit more poppy, certainly, than Humbug," WK the previous album.
"A tracklisting full of snappy one-liner titles like 'All My Own Stunts', Love Is a Laserquest, and Don't Sit Down 'Cause I've Moved Your Chair" RL "seems to promise a return to the vigorous sarcasm that launched them to domestic stardom." RL
That latter track serves as the first single, having been released in a limited three thousand vinyl copies for Record Store Day on April 16, 2011. WK "Don't Sit Down" is an "unquestionable highlight" RL which is "driven with sinister determination by a grimly-grinning death-march of a lead riff." RL "It's bluesy, potent, swaggering, irresistible nonsense, and it's wonderful stuff. Turner gleefully gives himself over to the jokey darkness, exhorting someone, anyone to 'run with scissors', 'go into business with a grizzly bear', and 'bite the lighting / and tell me how it tastes'. It's quite hard to picture any other writer/vocalist in rock managing to make a reference to the Macarena sound simultaneously hilarious and ominous, but Turner accomplishes it here." RL
"Don't Sit Down" may be the first official single, but a video for Brick by Brick preceded it in March. WK The song offers a "numbingly simple Queens of the Stone Age pastiche is so profoundly non-Arctic Monkeys that it's tough to know what to make of it at all. The nods to their own past are always brief and measured, though; this album was crafted by a band moving inescapably forward." RL
The "starts off strong, with the beguiling" EG and "deceptively romantic" RL She's Thunderstorms. The song kicks things off with a "lithe, jangling riff" RL that "is characteristic of a band that has gained more than a measure of concern for how they sound, a feature further supported by the surfeit of harmonizing here and elsewhere." RL
That song "and the snappier Black Treacle [are] both fine showcases for Alex Turner's low-throated, drily stylish vocals. There's some filler after that, but the taut atmospherics and sly drama keep you interested." EG
"The surprisingly anthemic title track shares the album opener's musical elements as well as its lovesick tone, but neither song is doe-eyed or naïve about romance. Turner comes across as a weary soul who yearns for a relationship of interconnection but is under no illusions about the minefield that must be crossed to approach it." RL
"The track Piledriver Waltz was first released on Alex Turner's debut EP, Submarine, where it was credited to Turner as a solo artist." WK The version on Suck It and See is "a rerecording with the whole band involved." WK
Other cuts "allow some nostalgic Monkeys glory to be recaptured. Library Voices is of debut vintage, and All My Own Stunts features a callback to the title phrase of 'Dancing Shoes' from Whatever People Say I Am, That's What I'm Not." RL
"Ponderous sobriety will never be the way of the Arctic Monkeys, and their prodigious cheekiness has hardly been tempered much on Suck It and See. But Alex Turner and his bandmates are clearly expanding their abilities and getting better at focusing their fire with every release. The result may purposely evade the sublime, but it transcends the snide as well. Perhaps the album title is not so much a crude tease as it is a nervy invitation." RL
---
Review Source(s):
---
Brick by Brick (video)
---
Don't Sit Down 'Cause I've Moved Your Chair (video)
---
The Hellcat Spangled Shalalala (video)
---
The Suck It and See (video)
---
Related DMDB Link(s):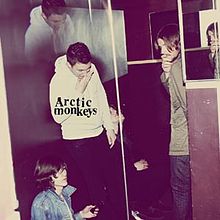 ---

Click on box above to check out the DMDB on Facebook.
---
Last updated December 5, 2011.