Review:
"Jazz starts here." BL "This 4-CD set represents the 'Rosetta Stone of Jazz,' the ultimate Louis Armstrong collection." JM "Louis Armstrong's Hot Five and Hot Seven recordings are jazz's Holy Grail, a venerable guide for anyone with the desire to explore the roots of this now century old art." MC Armstrong "was not the first great player in jazz, but he was the first to elevate the soloist's art to a position of primacy." KM "A typical band embellished a song, but Armstrong took long solos, causing near riots of excitement." MC
"Between 1925 and 1929, Armstrong invented scat singing, defined swing and introduced the jazz solo. He laid the foundations for America's first indigenous art form – and had a ball doing it. No wonder he was our first global pop star." BL "Music could never be the same again." KM
"He did so through the medium of the 78 rpm sides he cut for Okeh with his Hot Five and Hot Seven units. This was a genuine case of records creating history." KM These recordings "ushered out the era of acoustic recording where the soloist played into a huge cone and ushered in the electric method utilizing microphones." MC
"This four-CD set brings together all the recordings made during the period of the Hot Five and Hot Sevens along with all the attendant recordings that Armstrong was involved in during this breakthrough period." CK "Armstrong continually cuts through with a crystalline brilliance he was never to recapture." KM "When he opens West End Blues with a trumpet solo followed by the klop-klop of cymbals and his 'waa-waa-waa' scat in response to Johnny Dodds' clarinet one can imagine listeners falling-out with excitement." MC
"If the tragic grandeur of his playing on West End Blues is the pinnacle, it is all but matched on a dozen others." KM "There are plenty trumpet licks rendered to keep scholars and students busy for years." MC
"Although this material has been around the block several times before – and continues to be available in packages greatly varying in transfer quality – this is truly the way to go, and certainly the most deluxe packaging this material has ever received with the greatest sound retrieval yet employed." CK "Sonically, graphically, and in terms of comprehensiveness, this is truly the definitive study of Louis Armstrong's Hot Five and Hot Seven recordings." JM "Armstrong collectors will find everything from Armstrong's Okeh record dates here, re-mastered, finally correctly according to many Armstrong scholars. Digitally re-mastered and pitch altered to the sound of Armstrong's day. The music sound has significantly improved over previous Columbia/Legacy reissues." MC
"In addition to sounding better than the competition, it also sensibly lays out all the recordings Satchmo made during this period, grouping all the original Hot Five recordings from 1925 to 1927 (and all attendant material) together on the first two discs, all of the Hot Sevens on disc three, with the final disc devoted to the second coming of the Hot Five in 1928 along with the attendant material from the following year." CK
"Armstrong's Hot Fives band comprised of his wife Lil' Hardin Armstrong (piano/vocals), Kid Ory (trombone), Johnny Dodds (clarinet), and Johnny St. Cyr (banjo), were supplemented by tuba and drums to make the Hot Sevens. The last disc of the set features Armstrong and pianist Earl Hines, plus several big band recordings marketed under the popular Fives name." MC
"There are also several categories of 'bonus tracks' aboard this deluxe set, including the 'Lil's Hot Shots' 1926 Hot Five Vocalion recordings, a 1927 Johnny Dodds session that became the prototype for the Hot Seven recordings that soon followed, and the only known alternate take of I Can't Give You Anything but Love. You can't have a Louis Armstrong collection without this historic set. Come to think of it, you can't have any kind of respectable jazz collection without it, either." CK
---
Review Source(s):
---
Related DMDB Link(s):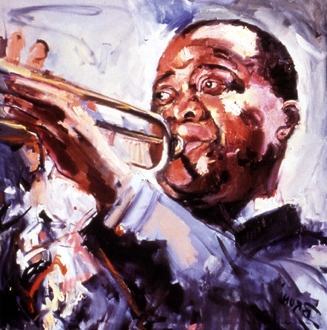 ---
Heebie Jeebies (audio with photo montage)
---
Potato Head Blues (audio with photo montage)
---
Struttin with Some Barbeque (1953 performance)
---
West End Blues (audio with photo montage)
---
Weather Bird (audio only)
---

Click on box above to check out the DMDB on Facebook.
---
Last updated August 4, 2011.