Review:
"You won't get much argument when it comes to declaring the Beach Boys' Pet Sounds a pop milestone." SP "it's considered by many to be one of the most influential albums ever" SM and it "holds a proud place among the greatest albums of all time." CS "This is more than just an album by a great American band; it's THE great American pop album." CDU
"Pet Sounds also marks a shift in the album as we know it" EK and "in the material for the Beach Boys…away from fast cars and cute girls to something much more intangible and…proved to be a watershed moment in the evolution of the album as art." JM "Few other artists were thinking in terms of the album as a cohesive unit, and it was especially rare among groups like the Beach Boys, who'd had such success as a singles group. The Beatles were the only other group to step up their game in that way (Dylan too, but his success wasn't as mainstream. The Stones were still a few years off from making consistently great LPs). After Pet Sounds, even the Top 40 groups were thinking bigger." EK
"In everything written about this album, 'genius' and 'masterpiece' are two words that invariably appear." SP "Of course, the former is applied to the album's creator and spiritual avatar, Brian Wilson," SP who had humbly "set out to construct the greatest pop record ever made." SP "Departing from the Beach Boys surf-music roots, Pet Sounds was an emotive and carefully planned recording that attempted to present an album as a unified work and not merely a collection of singles. The album is notable for Brian Wilson's high lead vocals and the harmonizing support from the other band members." NRR While the other Beach Boys are present, this is "effectively a Brian Wilson solo album." BL This was his "autocratic attempt to recreate the noises in his head." TL This is "Brian Wilson's gift to 20th-century music" AZ and "has proven the most complete statement of Wilson's musical and lyrical aesthetic." NRR
"He was inspired by the Beatles' Rubber Soul, and Pet Sounds was, in turn, an inspiration for Sgt. Pepper." CDU "Some critics say it's better than anything the Beatles ever released." PF British magazine New Musical Express even called it "The Best Album of All Time." PF
"Wilson's production brought record-making to a new level" CDU and was "groundbreaking enough to permanantly alter the course of music." PF "No one in the music industry had done what Brian Wilson did in 1966. The unique recording style, the combinations of sounds [and] the deeply personal lyrics" JC "changed the rules of rock & roll" CDU "by interjecting artistry, pop balladry, and studio craftiness into the otherwise predictable world of 2-minute dance songs." MF
"By 1966, [Brian] had been cruising along at the forefront of American popular music for four years, doling out a constant river of hit songs and producing that tough yet mellifluouis sound that was the only intelligent innovation in pop music between Chuck Berry and the Beatles." RS "Previous Beach Boy albums were…based on…the dream world of Surf, wired-up rods with metal flake paint, and curvaceous cuties lounging around the (implicitly suburban and affluent) high school. It was music for white kids; they could identify with the veneration of the leisure status which in 1963 was the ripest fruit of the American dream." RS "Nobody was prepared for anything so soulful, so lovely, something one had to think about so much." RS "Fans loved the band because they released consistently fun surf music while detractors despised how basically all of Wilson's songs had the same stolen Chuck Berry riff and themes." CS "No one ever expected that Brian Wilson could produce the acute level of artistry evident in…Pet Sounds." CS
"Overwhelmed with the demands of touring, Wilson retired to the studio in 1965. Brimming with creative ideas, he started laying down tracks…while the remaining Beach Boys were on the road…He tackled themes beyond the soda shop, the drag strip and the California coastline" SP and co-wrote most of the album with "a young advertising copywriter named Tony Asher" SS who was "brought in strictly for this album to translate Brian's feelings into words…He succeeded despite occasionally veering towards melodrama." JA
"Taking a cue from John Coltrane's [jazz classic] A Love Supreme, Wilson intended Pet Sounds to be an offering to God and an inspiration for man to love and heal one another," CS an effort which "has the emotional impact of a shatteringly evocative novel." RS It really "was the first rock record that can be considered a 'concept album'" RS as it offers up "a melancholy meditation on adulthood, desire, and failed romance." SS
"It also reflected Brian's preoccuapation with pure sound." RS "The complex, underlying track that cements each song provides plenty of opportunity to hear things you don't normally hear on a rock album." JC "Wilson plundered orchestra pits for new instruments and obsessed over the layering of what may be the most perfect harmonies in rock history." TL He "mastered producer Phil Spector's legendary Wall of Sound, saturating each track with echo, studio tricks and a cornucopia of gorgeous music." CS "Conventional keyboards and guitars were combined with exotic touches of orchestrated strings, bicycle bells, buzzing organs, harpsichords, flutes, theremin, Hawaiian-sounding string instruments…barking dogs, and more." RU Brian and the Boys "even used a coke bottle on a guitar to make it sound 'slidish'" GS – and they did it all "in mono, no less." SP "Brian didn't use studio trickery in so much as he simply knew how to use the studio. He knew where to place a microphone and which microphone to use…All good record engineers…know these things [but] Brian wasn't really a producer or an engineer…Everything was learnt cutting those simple early Beach Boys records, watching trusted lieutenant Chuck Britz in the control room." AD
"Much of it features Brian singing solo," JA but Wilson still "carefully aligned the famous Beach Boy harmony" SP with those "recording techniques and orchestral flourishes" PF to make for an "ambitious foray into the intricacies of harmony and melody." CDU
"It wouldn't have been a classic without great songs, and this has some of the group's most stunning melodies, as well as lyrical themes which evoke both the intensity of newly born love affairs and the disappointment of failed romance (add in some general statements about loss of innocence and modern-day confusion as well). The spiritual quality of the material is enhanced by some of the most gorgeous upper-register male vocals (especially by Brian and Carl Wilson) ever heard on a rock record." RU
Wouldn't It Be Nice "defines The Beach Boys' sound, with its bopping rhythm, bright melodies…layered harmonies" CS and "radiant choruses." GS The lyrics intelligently convey "the difficulties of being young and in love…'Wouldn't it be nice if we were older / Then we wouldn't have to wait so long / And wouldn't it be nice to live together / In the kind of world where we belong.'" CS "Basically 'wouldn't it be nice' if we were older, if we were in love, if we were married. It's a fantasy and the fantasy is supported by" AD "a stupendous vocal blend from Wilson, brother Dennis and Mike Love." SP The song is a "litany of emotion, teeming with rich instrumentation -- saxophones, bicycle bells, tympanis, violins, accordions and French horns." SP It is "an up-tempo, impossibly sophisticated pop song" AD – a "little slice of perfection." MF
Both that song and "the devoutly romantic God Only Knows reflect an innocent time of yearning post-adolescence" CDU as they "teeter on the edge between adolescent euphoria and adult lament." TL "God Only Knows" is, "perhaps one of the most beautiful songs ever, of any genre." MF "The lines, 'If you should ever leave me / Though life would still go on believe me / The world could show nothing to me / So what good would living do me / God only knows what I'd be without you' were the most magnificent lyrics Wilson and Asher would ever compose." CS Interestingly, the song "was sung by Carl, chosen by Brian after he rejected himself for the lead…Remarkably, it was only brother Carl's second ever lead on a Beach Boys record." AD
That song and Caroline No are "undeniably some of the more beautiful songs of the rock era." MF "Caroline No" is "three minutes of heartbreaking pathos, a haunting ballad" RS with "an eloquent vocal from Carl Wilson" SP that "deals with the loss of innocence and fading beauty with utter poignancy: 'Could I ever find in you again / Things that made me love you so much then / Could we ever bring 'em back once they have gone / Oh, Caroline no.'" CS
"The traditional folk song Sloop John B with its thickly interwoven vocals, was a major hit for the band" CDU and "set the standard for the use of harmonies in rock & roll." MF The song "features exciting piano, rock rhythms and impossibly simple sounding yet complicated melodies." AD As "the album's only cover," SP it "wasn't originally intended to go on the album." RU
"Pet Sounds' astonishing power comes from its less familiar songs." CDU In addition to the hits, there are "equally worthy are such cuts as You Still Believe in Me." RU It "was reworked from an earlier song called 'In My Childhood.'" AD It features "complex upward progressions." CDU "Brian's lovely harpsichord playing" RS and "double lead vocals from Brian (on the mono version of the album at least) and [it] showcases his heartbreaking falsetto very well." AD
Don't Talk (Put Your Head on My Shoulder) is another such gem. It is "an awesome love hymn which…introduces a completely new type of a song…a 'religious love song' [that is] a love song with almost religious notes." GS Accompanied by a "heartbeat bass" CDU and "beautiful organ harmonies over which" GS "Brian's wrenching, melting butter falsetto" RS "soars." GS
I'm Waiting for the Daywith its "shifting moods and devious instrumentation," CDU "is a fast-paced song of longing with Wilson singing in a harsher tone, 'I know you cried, and you felt blue / But when I could, I gave strength to you / I'm waiting for the day when you can love again.'" CS
Both that song and I Just Wasn't Made for These Times "are further testaments to Wilson's tortured genius." CDU It is an "autobiographical…[and] confessional ballad with a clip clop that'll make you wince." SP It is "an expression of general disenchantment with just about everything, rendered politely of course, in a low-key manner." RS It also "provided what was to become Wilson's defining lyric: 'Sometimes I feel very sad.'" TL
The anger and introspection of [that song as well as] Here Today and That's Not Me was never even hinted at even on the group's previous recording, 'California Girls.' These songs express the disenchantment, doubt and pessimism The Beach Boys never had the courage to sing about before." CS In the former, "Wilson creates a mood that perfectly captures the rush of infatuation, with a driving beat and vertical-sounding melody. But lyrically it's a song that says, "Don't bother. You're just going to get dumped." EK The latter is "a simple song on the face of it that is transformed purely by the playing and production." AD
"I Know There's an Answer has lyrics that were re-written by Mike after he expressed doubts concerning Brian's original 'Ego' lyrics." AD The original song, "Hang on to Your Ego," is added to CD reissues. "The new lyrics are slightly clumsy, slightly corny. Fortunately the musical backing is one of the most exotic on the entire record, full of strange noises and held together by wonderfully melodic bass-playing." AD
"Brian Wilson exhibits a remarkable flair for arrangement on the instrumental Let's Go Away for Awhile." SP Reviews on this and the other instrumental, the "ridiculously joyously silly" AD title track, are mixed. Called "bizarre, richly crafted orchestral instrumentals" JA in one case and "dull…curious, historic relic[s]" GS in another. They "were pretty daring and mind-blowing for the time: the weird time signatures and time changes, the zillions of different instruments used, the 'heavenly mood'…was perfect 'ambient music' for 1966, and with not a single Brian Eno in sight." GS
Pet Sounds "was a huge hit in England" AD but otherwise "was a relatively low seller compared to their previous LPs," RU "largely because it broke from the unadulterated chirpiness of the Beach Boys' early work." TL "Capitol Records famously were lukewarm" AD about the album; "the label rush-released a best-of to shore up the band's career (though Pet Sounds hit No. 10)." BL However, "People within the music industry…recognized Brian had put his heart and soul into Pet Sounds and that it was indeed something special." AD "The Rolling Stones took out an ad in the British music papers urging everybody to buy it" SS while "the Beatles adored it" SS – "John Lennon and Paul McCartney…were both inspired to expand their songwriting and recording skills," AD and cited Pet Sounds as inspiring Sgt. Pepper's Lonely Hearts Club Band. BL "McCartney has remarked on several occasions that it is his favorite album." NRR
The album's success "wasn't easy for the reclusive Wilson. The thoughtful accolades verses the yearning for surf songs, followed by the abuse from his father, his band mates, his record label and the abandoned Smile sessions – all grounded him into a sandbox of disorientation." SP "At his core, Brian Wilson is a sad pop geek. He wasn't cool like Dylan or cynical like Lennon or priapic like Jagger. Luckily for him, most music critics are sad pop geeks, too. He couldn't have fully realized it at the time, but he made a record just for them." EK "Defying all odds, he has lived to tell about it…Pet Sounds remains the quintessential traipse of the '60s, the precursor to the rock album as an art form to behold." SP It is "Brian Wilson's evolutionary compositional masterpiece" RS and "a sea of pure sonic joy." MF
---
Review Source(s):
JA John Alroy, Wilson & Alroy's Record Reviews
BL Blender Magazine's 100 Greatest American Albums (10/08)
CDU CdUniverse.com
JC Jeff Clutterbuck, Daily Vault
MF Marc Fagel, Pop Kulcher
EK Eric Klinger, Counterbalance (series at Pop Matters)
SM Steve Marshall, The Night Owl
AZ Jerry McCulley, Amazon.com
JM Jason Mendelsohn, Counterbalance (series at Pop Matters)
SP Shawn Perry, ClassicRock.About.com
PF Ryan Schreiber, Pitchfork Media
SS Steve Simels, Barnes & Noble
CS Clarke Speicher, The Review. "The 100 Greatest Albums of All Time." (Vol. 128; Numbers 12-23: October-November 2001).
TL Josh Tyrangiel and Alan Light, Time Magazine's "All-TIME 100 Albums" (11/13/06)
RU Richie Unterberger, All Music Guide
---
Related DMDB Link(s):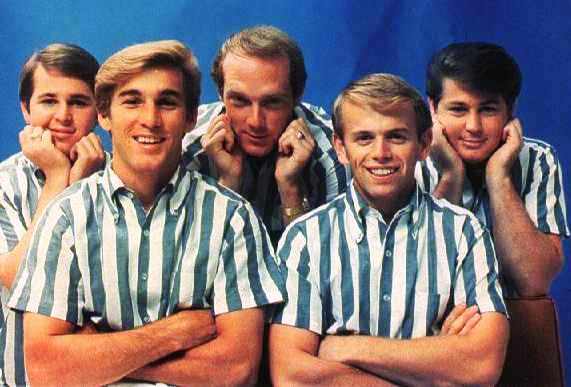 ---
Sloop John B
---
God Only Knows
---
Wouldn't It Be Nice (fan-made)
---
Buy It!
---

Click on box above to check out the DMDB on Facebook.
---
Last updated May 8, 2012.