Review:
This is an album "only for the adventurous music listener." RV It "fully explains the expression 'far out.'" AZ With Trout Mask Replica, Captain Beefheart "reveal[s] his unique blend of Delta 'n' Dada in all its quirky sophistication," WR clearly relishing in the total creative control allowed by producer and friend Frank Zappa. This is his "masterpiece, a fascinating, stunningly imaginative work that still sounds like little else in the rock & roll canon." AMG Don Van Vliet (Beefheart) "took avant-garde rock to the extreme" RV by "combining delta blues, beat poetry, funk jazz and garage rock." RV The result is "some of the most eccentric music of the late 1960s – or, for that matter, ever." AZ
"On first listen, Trout Mask Replica sounds like a wild, incomprehensible rampage through the blues." RS500 However, "the rustic and trippy imagery and the coarse-cut, earthy performances drew as much on free jazz techniques and beat poetry as well as the blues." WR Beefheart "growls, rants and recites poetry" RS500 along with "atonal, sometimes singsong melodies" AMG accompanied by "jagged, intricately constructed dual-guitar parts [and] stuttering, complicated rhythmic interaction." AMG "All of these elements float out seemingly at random, often without completely interlocking." AMG
<!—Amazon Ad -->
However, "every note was precisely planned in advance – to construct the songs, the Magic Band rehearsed 12 hours a day for months on end." RS500 When Zappa finally recorded their efforts, he got most of the album down in under five hours. RS500 Some of the "disjointedness is perhaps partly unintentional – reportedly, Beefheart's refusal to wear headphones while recording his vocals caused him to sing in time with studio reverberations, not the actual backing tracks." AMG – but by all accounts, the music and arrangements were carefully scripted and notated by the Captain, which makes the results even more remarkable." AMG
His "mind-bending lyrics" AZ "are absurdist gems and the music, especially in Moonlight on Vermont, revels in chaos." RV "Its spirit can be felt in the punk community, as bands like The Clash include the Captain among their influences." RV Other highlights include the spoken-word track The Dust Blows Forward N' the Dust Blows Back and Hair Pie: Bake 1, "a daunting experiment in cacophony." RV Songs like those and Pachuco Cadaver and Neon Meat Dream of an Octafish "actually sound as unusual as their titles." AZ
Trout Mask Replica's "inspiring reimagining of what was possible in a rock context laid the groundwork for countless future experiments in rock surrealism, especially during the punk/new wave era." AMG It has also "inspired modern primitives from Tom Waits to PJ Harvey." RS500
full album (audio only)
---
Review Source(s):
AMG All Music Guide review by Steve Huey
AZ Amazon.com review by Billy Altman
RV The Review "100 Greatest Albums of All Time" by Clarke Speicher (October – November 2001; Vol. 128: numbers 12-23).
RS500 Rolling Stone 500 Greatest Albums of All Time
WR The Wire "The 100 Most Important Records Ever Made" (June 1992: #100).
---
Related DMDB Link(s):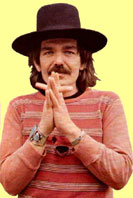 ---
Last updated February 2, 2013.