Review:
"Johnny Cash and band stride into California's second oldest prison, unleash their gut-wrenching country- and blues-tinged rock and stride back out. Legend has it that there's gold beneath Folsom. For Cash, there was gold inside: At Folsom Prison charted for two years." BL
This "was one of two legendary live albums Johnny Cash recorded in front of a prison audience in the late '60s. Part of the appeal of the records is the way Cash plays to the audience, selecting a set of songs that are all about prison, crime, murder, regret, loss, mother, God, and loneliness." AMG "He never did any hard time, but Cash had a natural sympathy for men who gave in to their worst impulses." TL "Cash stimulates the audience's emotions, which in turn stimulates his performance, especially since he delivers the songs with the conviction of someone who has lived through it." AMG
"At California's Folsom Prison, songs like Cocaine Blues ('When I was arrested I was dressed in black/ They put me on a train and they took me back') and 25 Minutes to Go ('With my feet on the trap and my head on the noose/ Got 5 more minutes to go') lose some of their defiance and gain some sadness, particularly when they're interrupted by announcements like, '88419 is wanted in reception.'" TL
Folsom Prison Blues
"There aren't many hits on the record — Folsom Prison Blues, I Still Miss Someone, Jackson, Give My Love to Rose, and I Got Stripes are the familiar items — but few albums come as close to capturing the darkness and rage that lays deep in Cash's music, as well as the depth of his talent." AMG
"The final track, Greystone Chapel, was written by Folsom inmate Glen Sherley. Cash heard it for the first time the night before the show and learned it fast so that the last lyric his audience heard was, 'Inside the walls of prison my body may be/ But my Lord has set my soul free.'" TL
Buy at Amazon:
---
Review Source(s):
---
Related DMDB Link(s):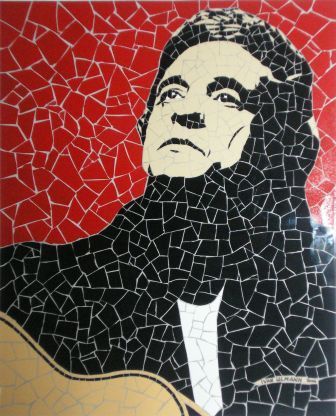 ---

Click on box above to check out the DMDB on Facebook.
---
Last updated November 30, 2012.