Review:
The Sex Pistols' "Never Mind the Bollocks may have appeared revolutionary, but the Clash's eponymous debut album was pure, unadulterated rage and fury, fueled by passion for both rock & roll and revolution." AMG2 While The Clash "sees the band in its most primal, punk form" AMG1 and while "the cliché about punk rock was that the bands couldn't play." AMG2 However, "although they gave that illusion," AMG "unlike its punk rivals the Sex Pistols, The Clash could play, and they played hard." RV
<!—Amazon Ad: US Version -->
"The charging, relentless rhythms, primitive three-chord rockers, and the poor sound quality give the album a nervy, vital energy. Joe Strummer's slurred wails perfectly compliment the edgy rock, while Mick Jones' clearer singing and charged guitar breaks make his numbers righteously anthemic." AMG2 "Despite Mickey Foote's low-key, lo-fi production, [the band] mesh and unite with a snarling ferocity and energy. Raw, bouncy edginess pours out of each song, with new hooks popping out at odd angles by the second." AMG1
"While the Pistols' music focuses on its own brand of nihilism, The Clash examines the struggles of England's streets with…wit and edge" RV and what was even considered by some to be a "proto-fascist call-to-arms." WR "This is a band not so much rebelling against a society, but trying to incite a riot in a world where 'All the power is in the hands / Of people rich enough to buy it / While we walk the street / Too chicken to even try it,' as Strummer proclaims in White Riot." RV
White Riot
"Few punk songs expressed anger quite as bracingly as 'White Riot,' I'm So Bored with the U.S.A., Career Opportunities, and London's Burning, and their power is all the more incredible today." AMG2 The first two "reflect the somewhat youthful, early quasi-political leanings of the band. Though they would come across as slightly amateurish years later, it's hard to deny their punchy charm." AMG1
The Clash, however, is about more than just punk rock. "The Clash were eager to confront the degenerating music scene as fiercely as they attacked the bourgeoisie." RV "The band isn't satisfied lingering in any one genre." AMG1 "White Man in Hammersmith Palais is the ultimate anti-punk song, which also manages to convert rock lovers into punks." RV
White Man in Hammersmith Palais
"Even at this early stage, the Clash were experimenting with reggae, most notably on…Police & Thieves, "a massively catchy take on the Junior Murvin/Lee 'Scratch' Perry song and an early signpost for the future dub/rock fusions to come on Sandinista!." AMG1
"Remote Control mixes Kinks-style fractured pop with pace changes lifted straight from Chuck Berry. Cheat sounds like the Ramones' 'Gimme Gimme Shock Treatment' given a rockabilly makeover." AMG1 Also here is "the funky singalong Protex Blue, the dark and revealing paranoia of Deny, and the short but utterly delightful 48 Hours." AMG1
Remote Control
It would be more than two years later that the U.S. version of The Clash was released. Four cuts were omitted (see track listings) in favor of post-U.K. Clash singles/B-sides, "all of which were stronger than the items they replaced." AMG2 "In a way, the U.S. edition served as an extremely early best-of," AMG1 but because these songs were "more polished and thus somewhat jarring," AMG1 "purists…most likely swear on the sonic cohesion of this U.K. edition." AMG1 No matter which way you go, though, "rock & roll is rarely as edgy, invigorating, and sonically revolutionary as The Clash." AMG2 It "didn't just help invigorate the punk scene – it was a desperate call to arms." RV
Complete Control
Clash City Rockers
---
Review Source(s):
AMG1 All Music Guide review of U.K. version by Tim DiGravina
AMG2 All Music Guide review of U.S. version by Stephen Thomas Erlewine
RV The Review "100 Greatest Albums of All Time" by Clarke Speicher (October – November 2001; Vol. 128: numbers 12-23).
WR The Wire "The 100 Most Important Records Ever Made" (June 1992: #100).
---
Related DMDB Link(s):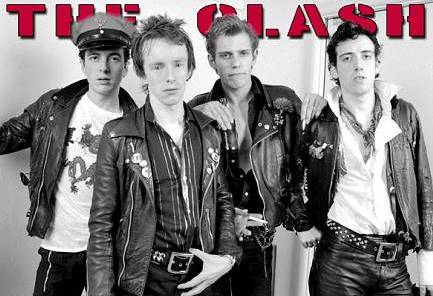 ---

Click on box above to check out the DMDB on Facebook.
---
Last updated January 22, 2013.