Review:
"Def Leppard's rock sensibilities shot them right to the top of the charts in the '80s. On their third album, Pyromania, the band reconciled new wave melodicism with heavy metal and catchy hooks without compromising any of its edge." SG "While Def Leppard had obviously wanted to write big-sounding anthems on their previous records, Pyromania was where the band's vision coalesced and gelled into something more. More than ever before, the band's songs on Pyromania are driven by catchy, shiny melodic hooks instead of heavy guitar riffs, although the latter do pop up once in a while." SH
"But it wasn't just this newly intensified focus on melody and consistent songwriting…that made Pyromania a massive success – and the catalyst for the '80s pop-metal movement." SH "Guitarists Phil Collen and Steve Clarke may have provided all the pyrotechnics on Pyromania, but the focal point of Def Leppard's sound, particularly for their teenage female fans, was singer Joe Elliott's voice (and, of course, his hair)." SG
In addition, "heavy rotation on MTV" SG played a big part, "but even without their ubiquitous television presence, anthems like Rock of Ages and Foolin' still had the stuff that drove the kids crazy. Bursts of screaming guitars and simple power riffs joined forces with choruses that begged to be shouted along to." SG
Finally, "Robert John 'Mutt' Lange's buffed-to-a-sheen production – polished drum and guitar sounds, multi-tracked layers of vocal harmonies, a general sanding of any and all musical rough edges, and a perfectionistic attention to detail – set the style for much of the melodic hard rock that followed. It wasn't a raw or spontaneous sound, but the performances were still energetic and committed." SH
"Leppard's quest for huge, transcendent hard rock perfection on Pyromania was surprisingly successful; their reach never exceeded their grasp, which makes the album an enduring (and massively influential) classic" SH and "an essential brick in the foundation of '80s metal." SG
---
Review Source(s):
---
Related DMDB Link(s):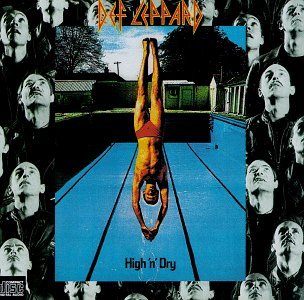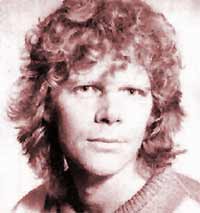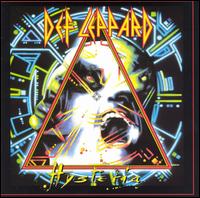 ---
Photograph:
---
Rock of Ages:
---
Too Late for Love
---
Foolin':
---

Click on box above to check out the DMDB on Facebook.
---
Last updated March 28, 2011.