Review:
As if following up three albums that sold nearly 30 million copies and a battle with their record label over royalties weren't enough, the path toward this album "proved to be quite rocky for the Texan trio, largely due to anti-George W. Bush and antiwar comments lead singer Natalie Maines made during the long crawl to the 2003 Iraqi War. Maines' words, initially spoken off the cuff in concert but then repeated in numerous interviews, earned her plenty of enemies within the country community (most notably Toby Keith), but despite the hailstorm of publicity, Maines, Martie Maguire, and Emily Robison did not back down, even as their country audience slowly diminished. But by that point, the Dixie Chicks were bigger than a mere country act anyway: they were international superstars." STE
"Their sound and sensibility played to an audience that was much bigger and more self-consciously sophisticated than the country audience, so their shift from country to pop on 2006's Taking the Long Way feels natural; even the neo-bluegrass of Home felt like a kindred spirit to the alt-country movement and such AAA singer/songwriters as Sheryl Crow, not the pure bluegrass of Ricky Skaggs, or even the progressive Alison Krauss." STE
"Given the controversy of 2003, the conscious distancing from country makes sense – and given songs like the defiant Not Ready to Make Nice [Grammy winner for song and record of the year] and the redneck-baiting Lubbock or Live It, the Dixie Chicks don't sound like they're in retreat on Taking the Long Way either; they merely sound like they're being themselves." STE
"Taking the Long Way is as genuine a Dixie Chicks album as Home or Wide Open Spaces, feeling like an accurate reflection of the trio's current life. They are now savvy, sophisticated urbanites – the album cover makes it seem like they've stepped out of Sex and the City – and the music reflects that. It's rooted in country – or more specifically country-rock – and it wouldn't sound out of place in Nashville, but sounds more suited for upscale apartments and coffeehouses. The sound might be a little more NPR than hot country, but the trio's harmonies still shine brightly, they still play with conviction, and they still have a strong body of songs here." STE
"No doubt reflecting the influence of producer Rick Rubin, the Chicks work with songwriters well outside of the Music Row mainstream: naturally, Sheryl Crow makes an appearance as a co-writer here, but so does acclaimed pop tunesmith Neil Finn, alt-country mainstay Gary Louris, bluesman Keb' Mo', Heartbreaker Mike Campbell, and through much of the album, Semisonic/Trip Shakespeare frontman Dan Wilson. All are accomplished songwriters whose strengths may not seem to lie in country, but they all know how to structure a song, and they help give the group direction and the album focus." STE
"Rubin's skill on picking collaborators for the trio makes up for his typically flat production – it's clean and classy but not colorful, which it begs to be, given that this is a pop album filled with different styles and textures from rollicking rock & roll to soulful laments to sweet ballads. But this lack of zest in the production is forgivable because Taking the Long Way is otherwise a strong, confident affair that is far from suggesting the Dixie Chicks are being cowardly for moving away from country. Rather, they're bravely asserting their identity through this varied, successful crossover move." STE
---
Review Source(s):
---
Related DMDB Link(s):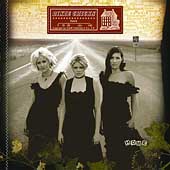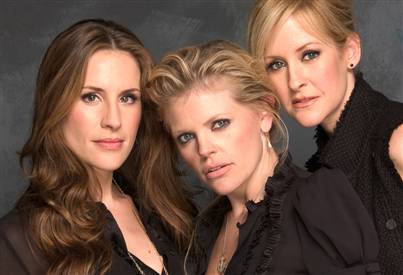 ---
I Hope (live video)
---
Not Ready to Make Nice (video)
---
Everybody Knows (live video)
---

Click on box above to check out the DMDB on Facebook.
---
Last updated October 8, 2011.