Review:
"Eagles Live is the first live album by the…Eagles, a two-LP set released in 1980. The Eagles broke up on July 31, 1980 after their concert at Long Beach. However, the band still owed Warners a live record from the tour. Eagles Live (released that November) was mixed by Glenn Frey and Don Henley on opposite coasts – the two decided they couldn't bear to be in the same state, let alone the same studio, and as Bill Szymczyk put it, the record's perfect three-part harmonies were fixed 'courtesy of Federal Express.' The 1983 Rolling Stone Record Guide said it is 'perhaps the most heavily overdubbed [live album] in history.' After the credits that list no fewer than five attorneys, the album's liner notes simply say, 'Thank you and goodnight'" (wikipedia.org).

"Eagles Live includes…tracks recorded in the fall of 1976 (thus allowing for the inclusion of departed singer Randy Meisner on Take It to the Limit)" (Ruhlmann). Also from 1976, according to Wikipedia.org, are New Kid in Town, Wasted Time, Doolin-Dalton (Reprise II), and Desperado.

However, "the bulk of the album comes from the end of the Eagles' 1980 tour, just before they broke up, and it reflects their late concert repertoire, largely drawn from Hotel California and The Long Run" (Ruhlmann).

"The occasional early song such as 'Desperado' and Take It Easy turn up, but many of the major hits from the middle of the band's career – 'The Best of My Love,' 'One of These Nights,' 'Lyin' Eyes' – are missing, replaced by such curiosities as two extended selections from Joe Walsh's solo career, Life's Been Good and All Night Long" (Ruhlmann).

"At least Walsh introduces some live variations to his material; the rest of the Eagles seem determined to recreate the studio versions of their songs in concert, which may work for them live but almost makes a live recording superfluous. The previously unrecorded rendition of Steve Young's Seven Bridges Road is welcome, and the album would have benefited from more surprises as well as a livelier approach to a live recording" (Ruhlmann).
---
Review Sources:
---
Related Links Within This Site: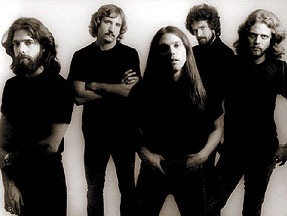 ---
Last updated March 26, 2008.