Review:
The English pop-jazz duo of Tracey Thorn and Ben Watt "made a couple of albums with a cocktail-jazz backup and one with strings before trying a small unit for the intimate songs of their most accessible recording. The setting is perfect for such moving compositions as Love Is Here Where I Live and Apron Strings" (Ruhlmann), the latter being featured, quite appropriately, on the soundtrack for the John Hughes movie She's Having a Baby.

The duo's cover of Cat Stevens' I Don't Want to Talk about It, better known in the cover version by Rod Stewart, became their biggest UK hit up to that point. They were destined for bigger things, finally denting the U.S. charts with their next album, albeit only on the adult contemporary and alternative rock charts. In 1995, a dance version of the band's "Missing" became a huge U.S. hit and, in the U.K., matched the #3 peak of "I Don't Want to Talk about It."

Despite bigger things to come, this is really the place to start; "then go on to the rest of this remarkable group's catalog" (Ruhlmann).
---
Review Source(s):
---
Related DMDB Links: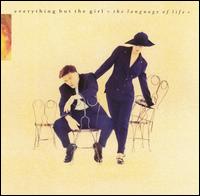 ---
Last updated January 19, 2009.