Review:
Band leader and clarinetist Benny Goodman, "touted as the 'King of Swing' at his peak," NRR was "the first real jazz musician to capture a mass bourgeois white audience in America." AZ He was also the first to stage a full jazz concert at Carnegie Hall. SY His publicist, Wynn Nathanson, initially suggested it as a publicity stunt, but after "his film Hollywood Hotel opened to rave reviews and giant lines, he threw himself into the work." WK It sold out its capacity 2,760 seats at the then-high top price of $2.75 a seat. WK
This snapshot of his "fantastic performance at Carnegie Hall" AZ started with three contemporary numbers, then played a history of jazz, and then a jam session on Honeysuckle Rose. Later some "trio and quartet numbers were well-received and a vocal on Loch Lomond by Martha Tilton provoked five curtain calls." WK
"This concert has been regarded as one of the most siginificant in jazz history" WK and "one of the greatest concerts ever captured on record." SY This was "a turning point in the way jazz is judged by outsiders." SY It had "finally been accepted by mainstream audiences." WK "It is hard to believe that tapes of this momentous event were kept in a closet, forgotten until rediscovered by accident in 1950" SY by Benny's sister-in-law in a closet in his apartment. WK
The performance "captures Goodman and his orchestra at the peak of their performance." AZ He is "fronting top performers and appearing before an energetic audience." NRR His "stellar bandsmen were joined by Lionel Hampton and members of the Count Basie and Duke Ellington ensembles for this famous festival of jazz during the height of the swing music era." NRR
"There are many, many high points, including exciting versions of Don't Be That Way and One O'Clock Jump, a tribute to the 20 years of jazz that were then on record; a jam-session version of Honeysuckle Rose, which found sidemen of the orchestras of Duke Ellington and Count Basie interacting with Goodman's stars; exciting performances by the Trio and Quartet; and, of course, Sing, Sing, Sing with Gene Krupa's creative (if not too subtle) drumming and Jess Stacy's remarkable ad lib piano solo." SY This "belongs in every serious music library, capturing Benny Goodman and the swing era in general at its height." SY
---
Review Source(s):
---
Related DMDB Link(s):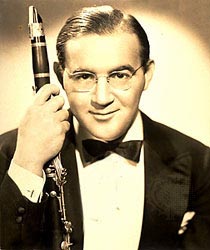 ---
2-minute documentary
<!—Buy It! -->
---

Click on box above to check out the DMDB on Facebook.
---
Last updated January 17, 2012.