Review:
"The 'difficult second album' is one of the perennial rock & roll clichés, but few second albums ever were as difficult as Use Your Illusion. Not really conceived as a double album but impossible to separate as individual works, Use Your Illusion is a shining example of a suddenly successful band getting it all wrong and letting its ambitions run wild." STE
"Taking nearly three years to complete, the recording of the album was clearly difficult, and tensions between Slash, Izzy Stradlin, and Axl Rose are evident from the start. The two guitarists, particularly Stradlin, are trying to keep the group closer to its hard rock roots, but Rose has pretensions of being Queen and Elton John, which is particularly odd for a notoriously homophobic Midwestern boy." STE
"Conceivably, the two aspirations could have been divided between the two records, but instead they are just thrown into the blender – it's just a coincidence that Use Your Illusion I is a harder-rocking record than II. Stradlin has a stronger presence on I, contributing three of the best songs – Dust n' Bones, You Ain't the First, and Double Talkin' Jive – which help keep the album in Stonesy Aerosmith territory." STE
"On the whole, the album is stronger than II, even though there's a fair amount of filler, including a dippy psychedelic collaboration with Alice Cooper and a song that takes its title from the Osmonds' biggest hit." STE
"But it also has two ambitious set pieces, November Rain and Coma, which find Rose fulfilling his ambitions, as well as the ferocious, metallic Perfect Crime and the original version of the power ballad Don't Cry. Still, it can be a chore to find the highlights on the record amid the overblown production and endless amounts of filler." STE
---
Review Source(s):
---
Related DMDB Link(s):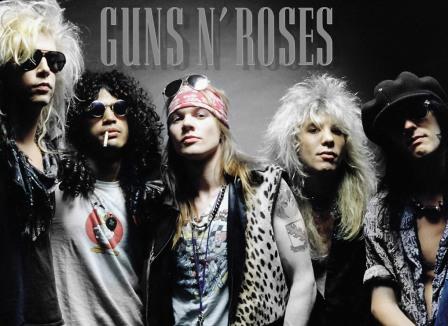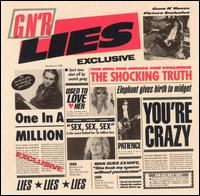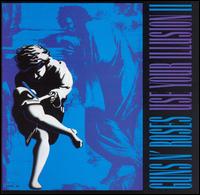 ---
Don't Cry (video)
---
November Rain (video)
---
Live and Let Die (video)
---

Click on box above to check out the DMDB on Facebook.
---
Last updated September 16, 2011.