Review:
The 2011 Mercury Prize winner (award for best album from the UK or Ireland) gave Harvey the distinction of being the first artist to win the award twice. It was her fourth nomination for the prize.
Harvey's previous album, White Chalk, was a "ghostly collection of ballads" HP but Let England Shake offered "a set of songs strikingly different from what came before it except in its Englishness." HP
The album was written over two-and-a-half years time. Harvey wrote the lyrics first and has cited poets like Harold Pinter and T.S. Eliot as influences. She also credited The Doors, The Pogues, and The Velvet Underground as musical inspiration. WK Initially she was looking to record the album in Berlin before settling on St. Peter's Church, Eype, near Bridport in Dorset for a five-week recording session in April and May of 2010. WK
Ludovic Hunter-Tilney of Financial Times said the album "depicts a country poisoned by an unfinished century of bloodshed." WK The Independent's Andy Gill described it as "a portrait of her homeland as a country built on bloodshed and battle" WK while Neil McCormick of The Daily Telegraph explained it as "a meditation on mankind's apparently endless appetite for self-destruction." WK NME's Mike Williams said, "Francis Ford Coppola can lay claim to the war movie. Ernest Hemingway the war novel. Polly Jean Harvey…has claimed the war album." WK
"Throughout the album, she subverts the concept of the anthem – a love song to one's country – exploring the forces that shape nations and people." HP "The Last Living Rose recalls Harvey's Dry-era sound in its simplicity and finds weary beauty even in her homeland's 'grey, damp filthiness of ages.'" HP
While exploring such themes, Harvey also experiments musically. Backed by a "xylophone melody borrowed from the Four Lads' 'Istanbul (Not Constantinople),'" HP she offers "a mischievous echo of the questions of national identity" HP on the title track. "The Words That Maketh Murder culminates its grisly playground/battleground chant with a nod to Eddie Cochran's anthem for disenfranchised '50s teens 'Summertime Blues,' while Written on the Forehead samples Niney's 'Blood and Fire' to equally sorrowful and joyful effect." HP
"As conceptually and contextually bold as Let England Shake is, it features some of Harvey's softest-sounding music. She continues to sing in the upper register that made White Chalk so divisive for her fans, but it's tempered by airy production and eclectic arrangements – fittingly for such a martial album, brass is a major motif – that sometimes disguise how angry and mournful many of these songs are." HP
The album received widespread critical acclaim. McCormick said it was "a profound and serious work from a singer-songwriter at the height of her powers." WK The Guardian's Alexis Petridis called it a "richly inventive album" WK which captured Harvey "at her creative peak." WK Meanwhile Q's Victoria Segal praised the album for its "remarkable lyrics" and "ethereal music." WK Ultimately, the album's "complexities make it one of Harvey's most cleverly crafted works." HP
---
Review Source(s):
---
Related DMDB Link(s):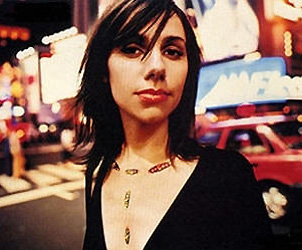 ---
The Words That Maketh Murder (video)
---
The Glorious Land (video)
---

Click on box above to check out the DMDB on Facebook.
---
Last updated December 2, 2011.