Review:
She may have started out known as the little sister of singer Michael Jackson or Jimmie Walker's neighbor on TV's Good Times, but on her third album, Janet Jackson crafted her own identity. Despite her reluctance at launching a recording career, Janet Jackson recorded two albums in her teens under the watchful eye of her dictatorial father, Joseph Jackson. In 1984, she married "James DeBarge of the family recording group DeBarge." WK "The Jacksons disapproved of the relationship, citing DeBarge's immaturity and substance abuse. Jackson left her husband in January 1985 and was granted annulment later that year." WK
After freeing herself from a failed marriage, she also wriggled out from under her father's thumb, firing him as her manager and hiring "John McClain, A&M Records then-senior vice president of artists and repertoire and general manager." WK He "subsequently introduced her to the songwriting/production duo, James 'Jimmy Jam' Harris III and Terry Lewis, former Prince associates and ex-members of The Time." WK
"Though Joseph Jackson initially demanded his daughter's new album be recorded in Los Angeles in order to keep an eye out for her, Jam and Lewis refused. They required the entire production of the album to be done at their own studio in Minneapolis, 'far from the glitter and distractions of Hollywood and the interference of manager-fathers.'" WK
They "tailored their contemporary dance-pop to the emerging personality of Janet Jackson." WR Their efforts "resulted in an unconventional sound: a fusion of rhythm and blues, funk, disco, rap vocals, and synthesized percussion that established Jackson, Jam and Lewis as the leading innovators of contemporary R&B. It enabled Jackson to transition into the popular music market, becoming one of the defining albums of the 1980s and contemporary music." WK
The album "has been praised by critics as both an artistic feat and as a personal testament of self-actualization." WK in which "she came across as an aggressive, independent woman, notably on What Have You Done for Me Lately," WR a song "which was originally penned for one of Jam and Lewis' own records…The lyrics were rewritten to convey Jackson's feelings about her recent annulment from James DeBarge." WK "The song was chosen as the lead single for Control, as Jam and Lewis felt it best represented Jackson's outlook on life." WK "The song was compared favorably to similar recordings of female empowerment released by black women, such as 'New Attitude' by Patti LaBelle, 'Better Be Good to Me' by Tina Turner and 'Sisters Are Doin' It for Themselves' by Aretha Franklin" WK supporting the Eurythmics.
The second single, "Nasty, which in Jackson's opinion was the most innovative song on the album, was inspired by one of her experiences in Minneapolis when a group of men made crude advances towards her outside of the hotel she resided at during the recording of Control. She recalled: 'They were emotionally abusive. Sexually threatening…I took a stand. I backed them down.'" WK The song "is one of the primary examples of what inspired the new jack swing sound, mixing funk with contemporary R&B in addition to its triplet swing beat." WK "Critic Jon Bream noted 'the songwriters have slyly juxtaposed a nasty-sounding groove and the repetition of the word 'nasty' with a subtle antinasty message.'" WK
"Let's Wait a While was centered around safe-sex and abstinence, a subject of significant social commentary at the time. Jam commented that it is common practice for songwriters to use current events as a means of inspiration for lyrics and that the AIDS pandemic had raised awareness about sexually transmitted diseases." WK
"In addition to stepping out of the Jackson family shadow, Control established Jackson as one of the preeminent female artists of popular music, rivaling fellow pop star Madonna, as critics began to acknowledge their influence on the record industry and younger artists." WK Whereas the first two had peaked at #63 and #147 respectively, this one hit #1 on the Billboard charts on the strength of five top 5 pop hits. She "became the first female artist to produce six top 40 hits on the Billboard Hot 100 from a single album." WK
"Music videos created to promote the singles showcased her dancing ability" WK – she was trained by a then-unknown Paula Abdul – and turned her into a video star. Billboard magazine's Jonathan Cohen said that her "'accessible sound and spectacularly choreographed videos were irresistible to MTV, and helped the channel evolve from rock programming to a broader, beat-driven musical mix.'" WK
"The album went on to receive several accolades, including a nomination for the Grammy Award for Album of the Year and winning Producer of the Year, Non-Classical for Jam and Lewis in 1987." WK "The album earned a record breaking twelve nomination from the American Music Awards, winning four." WK "Jackson also won three Soul Train Music Awards and six Billboard Music Awards." WK
---
Review Source(s):
---
Related DMDB Link(s):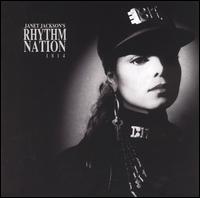 ---

Click on box above to check out the DMDB on Facebook.
---
Last updated May 17, 2011.