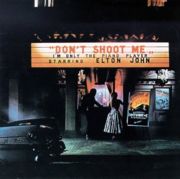 Released: January 22, 1973
---
Rating:

---
Genre: pop
---
Quotable: --
---
Album Tracks:
Daniel
Teacher I Need You
Elderberry Wine
Blues for My Baby and Me
Midnight Creeper
Have Mercy on the Criminal
I'm Gonna Be a Teenage Idol
Texan Love Song
Crocodile Rock
High Flying Bird
---
Sales:
---
Peak:

1 2


1 6
---
Singles/Hit Songs:
Crocodile Rock (11/4/72) #1 US, #5 UK, #11 AC. Platinum single.
Daniel (1/20/73) #2 US, #4 UK, #1 AC. Gold single.
---
Notes: A CD reissue added three B-sides from singles that supported the next album, Goodbye Yellow Brick Road. "Whenever You're Ready (We'll Go Steady)" and "Jack Rabbit" were both from the "Saturday Night's Alright for Fighting" single while "Screw You (Young Man's Blues)" was on the flip of "Goodbye Yellow Brick Road." Also on the reissue is a piano version of "Skyline Pigeon," a song first on Elton John's debut album, Empty Sky.
---