Review:
"It is not just the timbre of Norah Jones' voice that is mature beyond her 22 years." MR "There's a touch of Rickie Lee Jones in Jones's voice, a touch of Bonnie Raitt in the arrangements; her youth and her piano skills could lead one to call her an Alicia Keys for grown-ups." DA "Her assured phrasing and precise time are more often found in older singers as well. She is instantly recognizable, blending shades of Billie Holiday and Nina Simone without sounding like anyone but herself. Any way you slice it, she is a singer to be reckoned with." MR
Her "debut on Blue Note is a mellow, acoustic pop affair with soul and country overtones, immaculately produced by the great Arif Mardin." DA "Jones is not quite a jazz singer, but she is joined by some highly regarded jazz talent: guitarists Adam Levy, Adam Rogers, Tony Scherr, Bill Frisell, and Kevin Breit; drummers Brian Blade, Dan Rieser, and Kenny Wolleson; organist Sam Yahel; accordionist Rob Burger; and violinist Jenny Scheinman." DA
Jones does "convincing readings of Hank Williams' Cold Cold Heart, J.D. Loudermilk's Turn Me On, and Hoagy Carmichael's The Nearness of You." DA "Heart" and "Nearness" alone "are worth the price of the CD." MR
"Her regular guitarist and bassist, Jesse Harris and Lee Alexander, respectively, play on every track and also serve as the chief songwriters. Both have a gift for melody, simple yet elegant progressions, and evocative lyrics." DA
"Jones, for her part, wrote the title track and the pretty but slightly restless Nightingale." DA Her material, "while not bad, pales a bit next to such masterpieces. They might have fared better had she…opted for some livelier arrangements" MR "or if the tunes had simply been given less laconic performances." MR Still, "while the mood of this record stagnates after a few songs, it does give a strong indication of Jones' alluring talents." DA She "has all the tools; what will come with experience and some careful listening to artists like J.J. Cale and Shirley Horn is the knack of remaining low-key without sounding sleepy – sometimes less is not, in fact, more." MR
---
Review Source(s):
---
Related DMDB Link(s):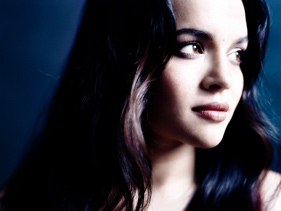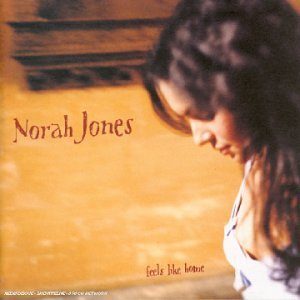 ---
Don't Know Why (video)
---
Feelin' the Same Way (live video)
---
Come Away with Me (live video)
<!—Buy It! -->
---

Click on box above to check out the DMDB on Facebook.
---
Last updated January 25, 2012.