Review:
"Escape was a groundbreaking album for San Francisco's Journey," MD flinging the band "steadfastly into the AOR arena" MD and making "them stadium-filling superstars." CR With songs that "are more rock-flavored, with more hooks and a harder cadence compared to their former sound," MD Journey charted three top ten singles. The album combined "Neal Schon's grand yet palatable guitar playing with Jonathan Cain's blatant keyboards." MD Cain, who "co-wrote every song on Escape," CR "replaced founding keyboardist Gregg Rolie who had left the band at the end of 1980." JM "All this was topped off by the passionate, wide-ranged vocals of Steve Perry, who is the true lifeblood of this album, and this band." MD
"Who's Crying Now spotlights the sweeping fervor of Perry's voice, whose theme about the ups and downs of a relationship was plentiful in Journey's repertoire." MD
"Don't Stop Believin', an evocative tale of "'streetlight people, living just to find emotion', became an American classic." CR "The whisper of Perry's ardor is crept up to with Schon's searing electric guitar work, making for a perfect rock song." MD The song had a surprising revival more than a quarter century later when it was used in the pivotal finale of cable TV's The Sopranos.
"One of rock's most beautiful ballads, Open Arms, gleams with an honesty and feel only Steve Perry could muster." MD The song, "rejected by [Cain's] previous band The Babys – was a monster hit" CR and the quintessential power ballad. It was as close as Journey got to a #1 song on the pop charts – it spent six weeks at #2 on the Billboard charts.
"There is a certain electricity that circulates through the rest of the album." MD While the album is best known for those three top ten, gold singles, the album also boasted a fourth single, the top 20 hit Still They Ride, and album-rock favorite Stone in Love. "The songs are timeless, and as a whole, they have a way of rekindling the innocence of youthful romance and the rebelliousness of growing up, built from heartfelt songwriting and sturdy musicianship." MD "Escape became Journey's "definitive statement" CR – its biggest-selling studio album and "one of their most popular and best-reviewed works to date." JM
---
Review Source(s):
---
Related DMDB Link(s):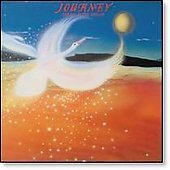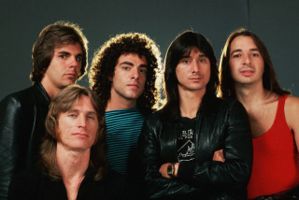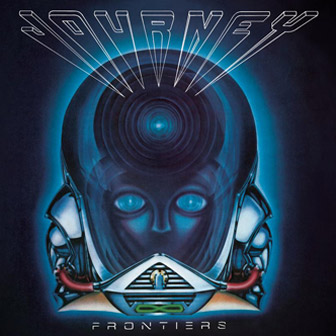 ---
Who's Crying Now (live)
---
Don't Stop Believin' (live)
---
Open Arms (live)
---
Still They Ride (live)
---

Click on box above to check out the DMDB on Facebook.
---
Last updated July 31, 2011.