Review:
B.B. "King, who has been called 'The King of the Blues' and the 'best blues artist of his generation,' has been a primary influence on a number of artists, including Buddy Guy, Eric Clapton and Mike Bloomfield." NRR "King is not only a timeless singer and guitarist, he's also a natural-born entertainer, and on Live at the Regal the listener is treated to an exhibition of all three of his talents. Over percolating horn hits and rolling shuffles, King treats an enthusiastic audience (at some points, they shriek after he delivers each line) to a collection of some of his greatest hits." DG
The album was significant in King's career because it graduated him from a largely black following to a much larger white audience. ABC-Paramount had signed King in 1961 in the hopes of emulating the crossover success of label-mate Ray Charles. Having struck out so far, they returned to basics and let King do what he did best – play live. Studio albums bounced back and forth between showcasing King's vocals and guitars. A live performance let him excel at both simultaneously while also allowing King to prove himself the consummate performer.
This album was recorded "at the Regal Theater in Chicago in 1964" NRR "in front of a few hundred lucky fans" SM and "is considered by many to be one of the definitive blues albums." SM It was "one of the first of an in-concert blues performance." NRR It "documents King's intimate relationship with his audience" NRR as he puts "on a stunning performance by which all others would soon be judged." SM
"The recording showcases King's inventive and emotional guitar style, which blends Delta blues with a rhythm and blues beat, spiking the combination with his 'sliding note' style." NRR The style "has been copied by just about every guitarist around." SM
"Things get off to a lively start with the classic Every Day I Have the Blues, and they don't let up till the CD's over. The guitar work is superb (yet never overdone) throughout the disc, and B.B.'s unique storytelling abilities are unmatched." SM
"The backing band is razor-sharp, picking up the leader's cues with almost telepathic accuracy. King's voice is rarely in this fine of form, shifting effortlessly between his falsetto and his regular range, hitting the microphone hard for gritty emphasis and backing off in moments of almost intimate tenderness." DG This is clear by the second number, when after his standard uptempo opener of Memphis Slim's Everyday I Have the Blues, he immediately slows things down with Sweet Little Angel, "climaxing when King unleashes his guitar, the legendary Lucille, into an inspired less-is-more solo." GW
A similar highlight is "at the climax of How Blue Can You Get, where the Chicago venue threatens to explode at King's prompting. Of course, the master's guitar is all over this record, and his playing here is among the best in his long career. Displaying a jazz sensibility, King's lines are sophisticated without losing their grit." DG
"Most of the songs here are fairly short, so King doesn't get to stretch out much. Worry Worry is an exception though. Largely an instrumental (at least in the first half), B.B. really cuts loose on this one." SM
"More than anything else, Live at the Regal is a textbook example of how to set up a live performance. Talking to the crowd, setting up the tunes with a vignette, King is the consummate entertainer. Live at the Regal is an absolutely necessary acquisition for fans of B.B. King or blues music in general. A high point, perhaps even the high point, for uptown blues." DG
---
Review Source(s):
DG Daniel Gioffre, All Music Guide
SM Steve Marshall, The Night Owl (1996)
GW Greg Ward, The Rough Guide to Blues 100 Essential CDs. Rough Guides: London (2000)
---
Related DMDB Link(s):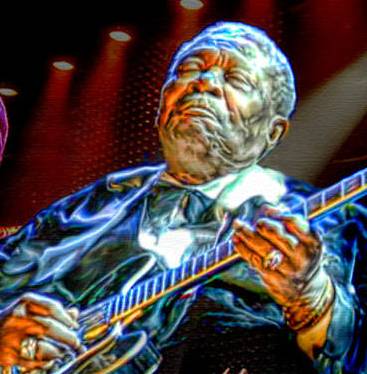 ---
Everyday I Have the Blues (live clip with photo montage)
---
You Upset Me Baby (live clip with photo montage)
---
Please Love Me (live clip with photo montage)
---

Click on box above to check out the DMDB on Facebook.
---
Last updated September 16, 2011.