Review:
Carole King's "songs with husband Gerry Goffin had been hits for talents as diverse as Aretha Franklin with You Make Me Feel Like a Natural Woman and Little Eva with 'The Locomotion,' but it took a push from James Taylor [who had recorded King's You've Got a Friend] to get King to record a few herself." TL "Always a superior pop composer, King reaches even greater heights as a performer" AMG by bringing "the fledgling singer/songwriter phenomenon to the masses with Tapestry." AMG
You've Got a Friend (with James Taylor)
The album "is not over-produced, which makes up a big part of the album's homespun charm." DV "With its reliance on pianos and gentle drumming" AMG "with a few sonic flourishes and some saxophone and guitar here and there," DV "Tapestry is a light and airy work on its surface, occasionally skirting the boundaries of jazz." AMG
"Instead of the music, Tapestry is carried by the hooks and riveting vocals from King." DV Her "voice has limits, range chief among them, and that's a critical part of Tapestry's charm." TL "The music is loose, earthy, L.A. session-pop" AZ and while this is "Pacific rock…[it is delivered] with a sharpness worthy of a Brooklyn girl." RC "King is casual, intimate, and tough; she covers all the emotional ground of the post-liberated woman with ease." AZ It is "an intensely emotional record" AMG delivered with "disarming simplicity, and humane, undisguised sincerity." GS Taylor said the album was "Very personal, very accessible statements, built from the ground up with a simple, elegant architecture." BN
Songs which "have been worn thin by time and uninspired covers by every lounge singer in the world" BN "take on added resonance when delivered in her own warm, compelling voice." AMG When "heard in the voice of the original songwriter, they still sound astonishingly fresh." BN "Her take on 'Natural Woman' feels more vulnerable than Franklin's, her slowed down Will You Love Me Tomorrow? more poignant than the Shirelles" TL by adding "adult nuance" AZ and backing vocals from James Taylor and Joni Mitchell.
It's Too Late
The hit "new songs…rank solidly with past glories." AMG Their "white-soul realism and maturity put pop hits to shame." AZ I Feel the Earth Move "actually rocks" GS and "if there's a truer song about breaking up than It's Too Late, the world (or at least AM radio) isn't ready for it." RC
I Feel the Earth Move
That song might be rivaled by So Far Away. "With its universally recognized 'doesn't anybody stay in one place any more' line, [it] is among the best ballads ever written." GS Meanwhile, "Beautiful may not be the best song in existence, but it's certainly one of the most optimistic ones." GS There's also "the jolly upbeat country rock of Where You Lead" GS and then Smokewater Jack, "that oh-so-Seventies outlaw tale [which] is completely and absolutely out of touch with the rest, but it's good clean fun anyway." GS
So Far Away
With Tapestry, King "created the archetype of the female singer-songwriter." TL "King has done for the female voice what countless singer-composers achieved years ago for the male: liberated it from technical decorum." RC "She insists on being heard as she is – not raunchy and hot-to-trot or sweet and be-yoo-ti-ful, just human, with all the cracks and imperfections that implies." RC
---
Review Source(s):
---
Related DMDB Link(s):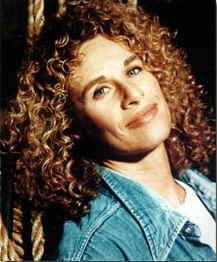 ---

Click on box above to check out the DMDB on Facebook.
---
Last updated December 1, 2012.