Review:
With Born This Way, Lady Gaga nabbed her third consecutive Grammy nomination for Album of the Year, following The Fame in 2010 and The Fame Monster in 2011. The album was hotly anticipated and with more than a million sold in its first chart week in the U.S., it had the largest first-week sales for an album in five years. WK Internationally, it debuted in the top five in every major market.
Critically, the album was generally met with acclaim. NME's Dan Martin said "Gaga doesn't know when to hold back – and it's a damn good thing." WK Sal Cinquemani of Slant magazine called it "an exercise in extraordinary excess." WK Spin said that "excess is Gaga's riskiest musical gamble, but it's also her greatest weapon." WK
Of course, all the reviews weren't positive. All Music Guide's Stephen Thomas Erlewine said, "Lady Gaga has channeled her grand ambitions into her message, and not her music. Gaga has taken it upon herself to filter out whatever personal details remain in her songs so she can write anthems for her Little Monsters, that ragtag group of queers, misfits, outcasts, and rough kids who she calls her own." STE Her "ambition to marry rock & roll rebellion with her disco beats turns Born This Way into [Madonna's] Like a Prayer by way of [Meat Loaf's] Bat Out of Hell." STE Los Angeles Times' Randall Roberts called it "unsubtle aesthetically" WK while The Washington Post's Chris Richards said "it sounds like reheated leftovers from some '80s movie soundtrack." WK The Independent said that "the broader she spreads her net musically, the less distinctive her art becomes." WK
However, the album was commonly commended for its variety of musical styles. While her earlier work consisted primarily of electropop, house music, and dance pop, Born This Way incorporated elements of opera, heavy metal, rock, Europop, new wave, and disco. WK Bloody Mary featured a male vocal choir while Americano is a mariachi song using guitar and violin. Bad Kids sported electric guitar and a "metal-disco fusion" STE while saxophone is featured in Hair and The Edge of Glory. WK
The song Marry the Night, which "glistens with a neon pulse," STE "contains church bells, a thumping four on the floor house beat, [and] a funk rock-influenced breakdown." WK You and I is a country-rock-flavored ballad which samples Queen's "We Will Rock You" and even features Queen guitarist Brian May. WK Influences for the album included Madonna, Whitney Houston, Bruce Springsteen, Queen, Kiss, Pat Benatar, and Iron Maiden. WK
Thematically, the album voiced strong messages about sexuality and feminism. It also referenced individualism, equality, and freedom. There are also references to notable figures from Christianity, most obviously in the song Judas. That song turns her earlier hit "Alejandro" "into towering gothic disco." STE
The title song became the fastest-selling single in iTunes history WK and topped the charts in nineteen countries. WK It served up a message about how everyone is equal and should follow his or her dream and has "a giddiness to its self-importance." STE The Eurobeat-based song bore similarities to Madonna's "Express Yourself". The song has also been compared to German electronic band Kraftwerk. WK
In the end, the album solidifies Gaga's "standing as something of a pop visionary, although Gaga is a little bit too eager to embrace her role as messiah, letting her skills as a songwriter slide ever so slightly. Gaga's true gift is her considerable dexterity at delivering the basics. Unlike so many of her peers, she does not cut and paste her tracks digitally, she constructs from the chords up, then accessorizes at will. She doesn't abandon this sensibility on Born This Way, but she does take it for granted, never pushing her compositions or productions into unpredictable territory." STE "This is an album that's meant to be more: it's intended to be a soundtrack to a way of life, but it winds up playing as a collection of songs." STE
---
Review Source(s):
---
Related DMDB Link(s):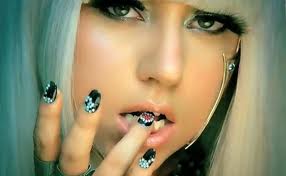 ---
Born This Way (video)
---
Judas (video)
---
The Edge of Glory (video)
---
Hair (video)
---
You and I (video)
---
Marry the Night (video)
---

Click on box above to check out the DMDB on Facebook.
---
Last updated December 3, 2011.