Review:
"Has an album title ever been so self-prophetic? In its first year, this electropop opus rocketed Lady Gaga from unknown New York lounge singer to the world's biggest pop star this side of Britney Spears" ET "The times were crying out for a pop star like Lady GaGa – a self-styled, self-made shooting star, one who mocked the tabloid digital age while still wanting to wallow in it – and one who's smart enough to pull it all off, too. That self-awareness and satire were absent in the pop of the new millennium, where even the best of the lot operated only on one level, which may be why Lady GaGa turned into such a sensation in 2009: everybody was thirsty for music like this." STE
Based on the album's prevalent themes regarding the pursuit of celebrity and the lifestyle of the rich and famous, the spotlight was exactly where she wanted to be. However, while Gwen Stefani, to whom GaGa is often compared, "simply celebrates celeb consumer culture, GaGa bites, her litany of runway models, pornographic girls, and body plastic delivered with an undercurrent of disdain, even as she loves all the glitz." STE In addition, "Gaga's vocals are in fact richer and rounder, allowing her a certain stylistic versatility, and her personae alternate from wild party kid to vulnerable lover." ET
That versatile personae, along with a predilection for over-the-top outfits, an ability to manipulate the press, and a provactive image suggested "that she was the second coming of Madonna, a comparison GaGa cheerfully courts and one that's accurate if perhaps overextended. Like the marvelous Madge, Lady GaGa ushers the underground into the mainstream – chiefly, a dose of diluted Peaches delivered via a burbling cauldron of electro-disco – by taming it just enough so it's given the form of pop yet remains titillating." STE
While some critics painted The Fame as unoriginal and lyrically simplistic, there seemed to be consensus on Gaga's gift for melodious hooks and Gwen Stefani-sounding vocals that would give her exactly the fame she desired. Genevieve Koski of the The A.V. Club said that the album is "fueled by a glitter-laced, dance-inciting energy that bodes well for extended club play, which is really the whole point." WK Indeed, the album would win a Grammy for Best Electronic/ Dance Album and even get nominated for Album of the Year.
Like Madonna, Gaga rose up through the New York club scene. The song "Beautiful, Dirty, Rich summed up her time of self-discovery, living in the Lower East Side and dabbling in drugs and the party scene." WK Both artists hit big with their debut albums, but while Madonna's first album was an unquestionable success led by a top 20 hit, a top 10 hit, and two top 5 hits, it wasn't until "Like a Virgin," her first single from album #2, that she hit the pinnacle. Gaga, however, shot to #1 right out of the gate with Just Dance, which "talks about being intoxicated in a party, with lyrics like 'What's going on on the floor? / I love this record, baby but I can't see straight anymore.'" WK Gaga said it was "is a joyous, heart-themed song which appeal[s] to people going through tough times in their life." WK Come Grammy time, "Just Dance" earned a nomination, but not the prize, for Best Dance Recording.
She followed that up with the even bigger Poker Face, a song "inspired by Gaga's boyfriends who enjoyed gambling, and also dealt with her personal experience of bisexuality; her fantasies about women while having sex with men, thus representing her 'poker face'." WK Like its predecessor, it hit #1 in the U.S. and U.K. While "Just Dance" lost the Grammy for Best Dance Recording the year before, "Poker Face" garnered a win in the same category – as well as nominations (but no trophies) for Song of the Year and Record of the Year. The pair of songs went on to cement places in the top 10 best-selling digital songs of all-time.
Eh, Eh (Nothing Else I Can Say), which "was about breaking up with a boyfriend and finding someone new," WK and incorporated "the 'Eh, Eh' hook from Rihanna's single 'Umbrella,'" WK was released in parts of the world as the third single, but in the U.S. LoveGame was next up. The song is "about love, fame and sexuality which is akin to the central theme of album." WK It was inspired by "Gaga's sexual crush on a stranger in a night club to whom she said, 'I wanna ride on your disco stick.' It was written in four minutes based on the disco stick hook." WK
In the U.K., Paparazzi was released as the third single while it was the fourth release in the U.S. and the fifth through other parts of the world. In the song, GaGa "casts herself as the photographic parasite chasing after her crush," STE pondering "whether one can have both fame and love." WK The song appears to be about "a stalker who is following somebody being his or her biggest fan. The lyrics also portray the desire of capturing the attention of the camera as well as achieving fame." WK However, the song "has been interpreted with different meanings." WK Gaga told About.com that it "was inspired by her struggles and hunger for fame and love." WK
Beyond the singles, were songs infused with a variety of musical backgrouns. Boys, Boys, Boys was intended to be a female version of Motley Crue's "Girls, Girls, Girls" that would be embraced by the rock crowd. WK Elsewhere, "Summerboy has influences of the music of Blondie." WK There's also the glam rock style of David Bowie and Queen, the latter inspiring the song Brown Eyes. WK
In the end, The Fame "is commandeering enough, bizarre and beguiling enough, to ensure that she'll be basking in our attention for a very long time." ET
---
Review Source(s):
---
Related DMDB Link(s):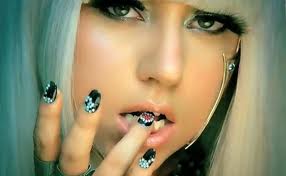 ---
Just Dance (video)
---
Poker Face (video)
---
Paparazzi (video)
---
LoveGame (video)
---

Click on box above to check out the DMDB on Facebook.
---
Last updated August 12, 2011.