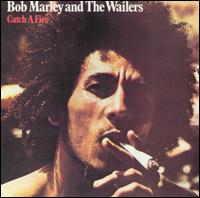 Released: April 13, 1973
---
Rating:

---
Genre: reggae
---
Quotable: "one of the finest reggae albums ever" – Vik Iyengar, All Music Guide
---
Album Tracks:
Concrete Jungle
Slave Driver
400 Years
Stop the Train
Baby We've Got a Date
Stir It Up
Kinky Reggae
No More Trouble
Midnight Ravers
---
Sales (in millions):
---
Peak:

171


--
---
Singles/Hit Songs:
Stir It Up (10/68) --
Stop That Train (1971) --
Baby We Got a Date (Rock It Baby) (1/73) --
Concrete Jungle (6/73) --
---
Notes: "400 Years" previously appeared on Soul Rebels and African Herbsman. The 2001 remastered version adds bonus tracks "High Tide or Low Tide" and "All Day All Night." There's also the two-disc deluxe edition which adds an album's worth of dubs. A Deluxe Edition of the album adds a second disc which consists of the original Jamaican version of the album before it was remixed with extra guitar and keyboard parts.
---
Awards:
---