Review:
"There is no other album like Bat Out of Hell, unless you want to count the sequel." AMG "Nobody else wanted to make mini-epics like this." AMG This collection of songs makes for "one of rock's most theatrical, grandiose records" RS and one of the genre's "least likely hit albums." AZ It is "overwrought and undeniable;" AZ "epic, gothic, operatic, and silly – and it's appealing because of all of this." AMG "It's rock as soap opera." PR
Meat Loaf, born Marvin Lee Aday, had alternated between recording music and appearing on stage through the late '60s and early '70s. He starred in the musical More Than You Deserve, written by the classically-trained pianist Jim Steinman, after which the pair decided to work on a musical album project based on Peter Pan. It evolved into the Bat Out of Hell album. TB
As a composer, Steinman drew on the "pomp and circumstance of Richard Wagner" TB and subscribed to the same principle which "made Andrew Lloyd Webber a multimillionaire knight: if you do kitsch, do it big." AZ "There never could have been a singer more suited for [Steinman's] compositions than Meat Loaf, a singer partial to bombast, albeit shaded bombast." AMG In addition, Todd Rundgren "gives Steinman's self-styled grandiosity a production that's staggeringly big but never overwhelming and always alluring." AMG
The songs on Bat Out of Hell are fused with "sentiments are deliberately adolescent and filled with jokes and exaggerated clichés." AMG This is "the sound of the American dream slipping into a coma as images of drive-in movies, teenage sexual fantasies and motorbike mythology flash before its eyes." PR "It may be easy to dismiss this as ridiculous, but there's real style and craft here and its kitsch is intentional." AMG "There's real (albeit silly) wit behind these compositions" AMG and "Meat Loaf finds the emotional core in each song, bringing true heartbreak to Two Out of Three Ain't Bad and sly humor" AMG to "the breathless nookie-quest [of] Paradise by the Dashboard Light," AZ complete with "baseball announcer [Phil Rizzuto] to narrate the backseat hookup." CS
Paradise by the Dashboard Light
The album "often gets compared to [Bruce Springsteen's] Born to Run." CS Bat has "Springsteen-esque narratives," AMG "the same small-town themes, epic production, and even personnel [E Street Band members Max Weinberg and Roy Bitten] but where Born to Run provides a nuanced look at the trials and triumphs of kids bursting out of small town America, Meat Loaf throws subtlety out the window. Everything here is bigger. Bat Out of Hell turns 'Born to Run' into a 10-minute roar, throwing motorcycle sound effects and 'Leader of the Pack' melodrama into the pot." CS
In addition, this is musically "a savvy blend of oldies pastiche, show tunes, prog rock…and blistering hard rock (thereby sounding a bit like an extension of Rocky Horror Picture Show, which brought Meat Loaf to the national stage)." AMG "It's hard not to marvel at the skill behind this grandly silly, irresistible" AMG and "brassy, brash and over the top" ZS "megaselling, megabombastic mega-album." RS "There are only a small number of records that fall into the 'essential rock album' category, and this is definitely one of them." NO
Two Out of Three Ain't Bad
---
Review Source(s):
AMG All Music Guide review by Stephen Thomas Erlewine
AZ Amazon.com review by Jerry McCulley
CS Consequence of Sound Top 100 Albums Ever (9/15/2010)
NO TheNightOwl.com review by Steve Marshall
PR Paul Roland (2001). CD Guide to Pop & Rock. B.T. Batsford LTD: London. Page 165.
RS Rolling Stone 500 Greatest Albums of All Time
TB Thunder Bay (2005). Albums: The Stories Behind 50 Years of Great Recordings. Thunder Bay Press; San Diego, CA. Pages 190-1.
VU VH1 Ultimate Albums TV series (2002-03).
ZS Zagat Survey (2003). Music Guide: 1,000 Top Albums of All Time. Coordinator: Pat Blashill. Music Editor: Holly George-Warren. Editors: Betsy Andrews and Randi Gollin. Zagat Survey, LLC: New York, NY.
---
Related DMDB Link(s):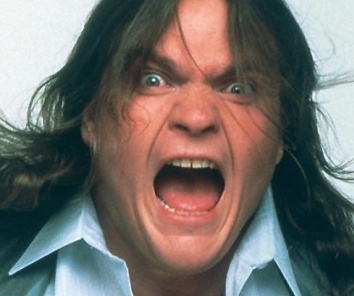 ---
Buy at Amazon:
---

Click on box above to check out the DMDB on Facebook.
---
Last updated October 21, 2012.