Review:
"'Write about what you know' is advice few have followed as thoroughly as Mitchell did on this set of laments" BL in which she "exposes a fragile, battered heart in an exquisitely sad and lovely song cycle." UT "She was only 28 when she recorded Blue, but she shaped the songs of decades to come" RV with this "brutally bleak masterpiece." VB It is "the quintessential confessional singer/songwriter album." AMG When country singer/songwriter Kris Kristofferson heard the songs, he said, "'Joni, save something for yourself.' It was advice she chose to ignore." BL
"From the bare arrangements of acoustic guitar and piano with maybe a hint of dulcimer, to the lyrics – 'All I really want our love to do/ Is to bring out the best in me/ and in you, too,'" TL her "songs are raw nerves" AMG which "paint a picture of a vulnerable and pained woman." RV "Mitchell whittles her journal entries and melodies down with poetic economy and relies on her falsetto to add the dramatic tension." TL
These are "tales of love and loss (two words with relative meaning here) etched with stunning complexity; even tracks like All I Want, My Old Man, and Carey – the brightest, most hopeful moments on the record – are darkened by bittersweet moments of sorrow and loneliness." AMG "'All I Want' highlights Mitchell's desire to escape loneliness in the arms of someone who loves her. Mitchell and James Taylor provide flamenco-flavored accompaniment as she describes her perfect mate: 'I want to talk to you, I want to shampoo you, I want to renew you again and again.'" RV
"At the same time that songs like Little Green (about a child given up for adoption) and the title cut (a hymn to salvation supposedly penned for James Taylor) raise the stakes of confessional folk-pop to new levels of honesty and openness." AMG "It's hard to think of a more emotionally naked song than the title track where Mitchell exposes her pain like a folk-inflected Billie Holliday." RV "For Mitchell, blue is more than an emotion or a style of music, but also the nickname given to her lover." RV
"Enjoyment depends entirely on your tolerance for sincerity, but even cynics concede the greatness of lines like, 'I could drink a case of you and still be on my feet.'" TL "Unrivaled in its intensity and insight, Blue remains a watershed." AMG
---
Review Source(s):
---
Related DMDB Link(s):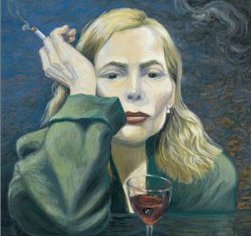 ---
Carey
---
River
---
A Case of You
---
Buy It!
---

Click on box above to check out the DMDB on Facebook.
---
Last updated June 21, 2012.