Review:
Alanis Morissette made an unlikely transition in the early 1990s from "mall-pop songstress" to "angry rocker chick" ZS with Jagged Little Pill, an album whose title is "a metaphor for lessons of life that are hard to accept." WK She was a "reluctant refugee from Canadian children's television" RC having joined the cast of the variety program You Can't Do That on Television at age 10. In 1991, her debut album Alanis and its single "Too Hot" went top 10 in Canada, but had no impact anywhere else. A second album, 1992's Now Is the Time, didn't meet expectations and MCA didn't renew their contract with Alanis. TB
In 1993, Alanis sought out a shift from her dance-pop sound. She moved from Ottawa to Toronto and then visited Nashville and L.A. in search of songwriters to help her craft her next project. She met Glen Ballard, a producer and songwriter who'd made with Quincy Jones' team and had worked on blockbusters such as Paula Abdul's Forever Your Girl and Wilson Phillips self-titled debut. TB
"According to Ballard, the connection was 'instant', and within 30 minutes of meeting each other they had begun experimenting with different sounds…Ballard and Morissette penned their first song together, called 'The Bottom Line'. The turning point in their sessions was the song Perfect, which was written and recorded in 20 minutes." WK Alanis "snarls, at the top of her formidable lungs, about egregious slights—from parents who suffocate with their expectations." TM She "improvised the lyrics on the spot, and Ballard played guitar. The version of the song that appeared on Jagged Little Pill was the only take that the pair recorded" WK and the first song shared with "A&R and record company people." WK
"Perfect" served as the template. In 1994, the pair started recording demos in Ballard's studio. They "sought to write and record one song a day, in twelve- or sixteen-hour shifts" WK in which Ballard provided most of the rough instrumentation. Morissette's vocals were recorded in one or two takes each; those original demo vocals were still used when the tracks were redone in a professional studio later. WK
Maverick Records had low expectations for the record, assuming it wouldn't sell more than 250,000 copies. WK However, "things quickly changed when a Los Angeles DJ from the influential radio station KROQ began playing You Oughta Know, the album's first single." WK With its "hello-it's-me phone rage" RS Alanis "turns jealous bile into something worth hearing EW as she "unleashes her rage at a lover who dumped her for another, threatening to disrupt dinner and taunting him: 'Everytime I scratch my nails down someone else's back,' she rasps, 'I hope you feel it.'" EW The victim of that venom "became the most guessed-about antagonist since that of Carly Simon's 'You're So Vain'." WK However, it has long been suspected to be Dave Coulier of television's Full House, whose relationship with Morissette had soured shortly before the song was recorded." WK
Elsewhere "song such as All I Really Want and Forgiven fester with a barely suppressed rage against institutionalized hypocrisy and what she sees as the emotional dishonesty of the male species." PR The "lyrical hints" AMG suggest "a record executive…took advantage of a young Alanis…This is such insider information that it's hard to believe that millions of listeners not just bought it, but embraced it." AMG
A whopping six radio releases "kept Jagged Little Pill in the top twenty on the Billboard 200 for over a year." WK As for the biggest hit of the batch, much has been made about the song Ironic not really being about irony; in reality, "it's just Alanis speaking her piece about the perils of being a girl in a fickle-as-fuck world, singing like an acoustic guitar." RS
"At its core, this is the work of an ambitious but sophomoric 19-year-old, once burned by love, but still willing to open her heart a second time." AMG She provided an "inside look into the minds and moods of young women who've been jilted and scorned" ZS refuting the "wisdom about how anger is not a terribly constructive emotion," TM opting to "unflinchingly explore emotions so common, most people would be ashamed to articulate them." AMG "Every teenage girl who owned it says, 'she's not annoying, damn it! She's me!'" ZS
Alanis "isn't a particularly good singer" AMG as she "tends to wildly oversing every other line" EW and stretch "the limits of pitch and credibility with her octave-skipping caterwauling." AMG However, her "wounded bleats and bellowing screams" TM "feel truly wild, too unruly to have been plotted beforehand." TM She "chews up and spits out the lyrics in a style reminiscent of Tori Amos at her most melodramatic." PR
"This anger is articulated by a ferocious, sub-grunge sound" PR aided by some contributions on bass and guitar from the Red Hot Chili Peppers' Flea and Dave Navarro. Sonically, this "clearly is an attempt to embrace the 'women in rock' movement in alterna-rock." AMG Alanis "aspires to the swaggering confidence of U2's big-tent anthems" TM with "similarly broad sing-along refrains." TM
"This combination of unsophisticated, low-fi sound and sexually explicit lyrics caught the mood of the moment and inspired a generation of soundalikes to bare their souls on record." PR "Perhaps it was the individuality that made it appealing, since its specificity lent it genuineness." AMG She has a "knack for bringing listeners into the center of her storm. She doesn't merely recount assorted setbacks, she offers a minute-by-minute tour of them, sparing no detail to describe raw and often uncomfortable emotions." TM
Her "bitter diary entries are given a pop gloss that gives them entry to the pop charts." AMG Alanis knows "she's selling pop songs. Not transcripts of therapy sessions." TM "Jagged Little Pill is like a Nineties version of Carole King's Tapestry: a woman using her plain soft-rock voice to sift through the emotional wreckage of her youth, with enough heart and songcraft to make countless listeners feel the earth move." RS It was "a defining disc for her generation." ZS
The album garnered six Grammy nominations, of which Alanis snagged Album of the Year, Best Rock Album, Best Rock Song, and Best Female Rock Vocal Performance. She missed out on Best New Artist and Song of the Year. Until 2010, "she was the youngest person to receive the Album of the Year award, at age 21." WK
---
Review Source(s):
AMG All Music Guide review by Stephen Thomas Erlewine
EW Entertainment Weekly The New Classics: Music (6/18/2007)
TM Tom Moon (2008). 1,000 Recordings to Hear Before You Die. Workman Publishing Company, Inc.: New York, NY.
PR Paul Roland (2001). CD Guide to Pop & Rock. B.T. Batsford LTD: London. Page 171.
RS Rolling Stone 500 Greatest Albums of All Time
TB Thunder Bay (2005). Albums: The Stories Behind 50 Years of Great Recordings. Thunder Bay Press; San Diego, CA. Page 277.
WK Wikipedia
ZS Zagat Survey (2003). Music Guide: 1,000 Top Albums of All Time. Coordinator: Pat Blashill. Music Editor: Holly George-Warren. Editors: Betsy Andrews and Randi Gollin. Zagat Survey, LLC: New York, NY. Page 166.
---
Related DMDB Link(s):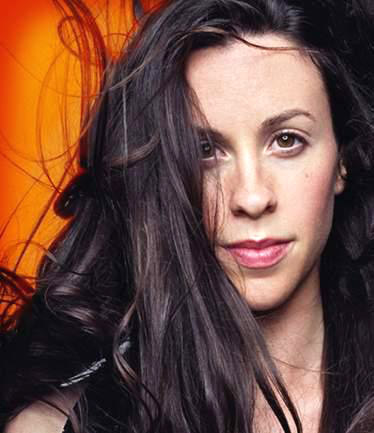 ---
You Oughta Know
---
Ironic
---
You Oughta Know (live at the Grammys)
---
You Learn
---
Head Over Feet
---
Buy It!
---

Click on box above to check out the DMDB on Facebook.
---
Last updated June 4, 2012.