Review:
"English folk revivalists Mumford & Sons' 2009 debut, Sigh No More, boarded the slowest train it could find on its journey from regional gem to pleasantly surprising, international success story." AMG The band Rolling Stone called "the biggest little string band on the planet" WK recalled days when "the Carter Family and the Louvin Brothers were radio gold" RS by crafting crafted "a set of rousing tunes clad in choirboy harmonies, clawhammer banjo and Salvation Army brass that exploded amid a sea of AutoTuned cyber-pop." RS Perhaps even more surprising than the success of their debut, however, was how much their sophomore effort was embraced. With 600,000 copes moved in its first week out, the album was second only to Taylor Swift's Red for biggest debut of the year. WK
The album did much to cement the growing folk-rock revival which has now included success for back-to-their-roots acts like The Lumineers, The Avett Brothers, and Alabama Shakes. The launch of the movement could arguably be tied to the Album of the Year Grammy win for Arcade Fire's The Suburbs. Interestingly, Markus Dravs produced that album and he also lends his talents here – and the result is another Grammy for Album of the Year (as well as a nomination for the UK equilvalent, the Brit Award for Album of the Year).
<!—Amazon Ad -->
"Short of being a little rowdier and raspier, Babel feels less like a legitimate sequel and more like an expanded edition" AMG of Sigh No More. This album "steps up Mumford & Sons' game without changing it too much. It feels shinier, punchier, more arena-scale than the debut, with the band hollering, hooting, plucking and strumming like Olympian street buskers." RS
The band admitted they deliberately tried to hone the sound they'd already developed instead of altering it. WK These are songs which are "ballsy, pained, fiery, and fraught with near constant references to sin, salvation, and all of the pontifical hopes and doubts that lie between." AMG "Most of Babel is caught between the confessional and an apocalyptic hootenanny, delivering its everyman message with the kind of calculated spiritual fervor that comes from having to adapt to the festival masses as opposed to the smaller club crowds." AMG
Babel
The downfall is that while this is "another set of incredibly spirited songs" AMG they sometimes "bark much louder than they bite." AMG As the Chicago Tribune's Greg Kot wrote, "There's nothing wrong with a rousing sing-along among 25,000 of your closest friends. The real issue with Mumford & Sons is its pedestrian songwriting and predictable delivery." WK Kot also said, "The band pays lip service to the idea of keeping things earthy and organic, and therefore somehow more sincere or heartfelt…but they wash out the gritty details." WK "Tracks like Hopeless Wanderer, Broken Crown, and the vivacious title cut bristle with moxie and self-importance, but feel like a ruse" AMG as they rely on a "kind of generic, turgid melodrama that always overshoots its mark." AMG
I Will Wait
This is an album "full of all manner of religious shoptalk, with Biblical metaphors swirling." RS Still, "proselytizing is not the mission on Babel; instead the band uses spirituality "to supersize and complicate love songs. Lovers' Eyes is merely the best of several songs that wrestle with betrayer's guilt." RS Elsewhere songs like the "hymnlike first single, I Will Wait and Lover of the Light both are proof that the Mumfords do dramatic builds, dropouts and soft-loud shifts as impressively as U2." RS
Lover of the Light
---
Review Source(s):
---
Related DMDB Link(s):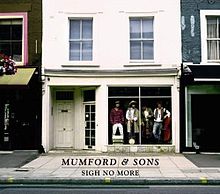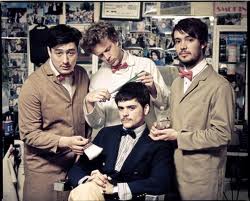 ---

Click on box above to check out the DMDB on Facebook.
---
Last updated February 12, 2013.