Review:
No Doubt released its self-titled debut in 1992, a year after they'd signed to Interscope. Their pop sound contrasted with the grunge music of the day and, according to the program director of California radio station KROQ, "It would take an act of God for this band to get on the radio." WK A second album, The Beacon Street Collection, was recorded independently and sold 100,000 copies. WK
No Doubt's third album and major-label debut, Tragic Kingdom, was released in October 1995, but didn't chart until January 1996. Then it took until December 1996 before it hit the top of the charts. The album "brought Southern California's ska scene to a national stage while elevating the band to star status" CK with its mix of ""'90s punk, third-wave ska, and pop sensibility." STE "Singer Gwen Stefani's looks made the group MTV shoo-ins" CK – Entertainment Weekly's David Browne went so far as to attribute the album's sales to her "leggy, bleached-blond calling card" while concluding that "sex still sells." WK However, "her soaring voice is the real star, as evidenced by such songs as Happy Now? – a classic you'll-regret-you-dumped-me anthem that recalls Blondie – and the bouncy Sunday Morning." CK
The band worked with producer Matthew Wilder, who'd had a top 5 pop hit with "Break My Stride" in 1983. It made for a "a clever mainstream co-opting of new wave quirkiness, and, as such, an ideal pairing." STE "Wilder kept his production lean and accessible, accentuating No Doubt's appealing mix of new wave melodicism, post-grunge rock, and West Coast sunshine. Even though the band isn't always able to fuse its edgy energy with pop melodies, the combination worked far better than anyone could have hoped." STE "Despite recurring themes of pain and regret, Tragic Kingdom manages to somehow feel sunny throughout." CK "When everything does click, the record is pure fun, even if some of the album makes you wish they could sustain that energy throughout the record." STE
Rolling Stone's David Fricke described the album as "ear candy with good beats, not just bludgeon-by-number guitars." WK While Brown attributed the album's sales to Stefani's looks, he also conceded that the music provided "a hefty chunk of new-wave party bounce and Chili Peppers-style white-boy punk." WK Los Angeles Times' Mike Boehm called the band "bright, hard-hitting and kinetic" WK while The Village Voice's Chuck Eddy said "No Doubt resurrects the exuberance new-wave guys lost when '80s indie labels and college radio conned them into settling for slam-pit fits and wallflower wallpaper." WK
The album "scored several hits" CK "led by the infectious, pseudo-new wave single Just a Girl" STE in which Stefani expressed her "exasperation with female stereotypes." WK Browne called it "a chirpy, ska-tinged bopper." WK
WK The second single, Spiderwebs, was written about a woman "trying to avoid the constant phone calls of a persistent man." WK Both songs "positively ruled the airwaves, both alternative and mainstream." STE
Then "in 1997 No Doubt cemented their cross-generational appeal" STE with Don't Speak, which Browne called "an old-fangled power ballad." WK The song was written about Stefani's breakup with bandmate Tony Kanal. The song peaked at #1 on the Billboard airplay chart for a then-record sixteen weeks. It was not eligible to chart on the Billboard Hot 100 because it was not released as a commercial single.
At the 1997 Grammy Awards, Tragic Kingdom took home the prize for Best Rock Album while No Doubt walked away with the award for Best New Artist.
---
Review Source(s):
---
Related DMDB Link(s):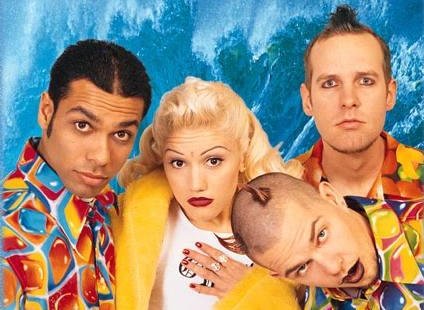 ---
Just a Girl (video)
---
Spiderwebs (video)
---
Don't Speak (video)
---
Excuse Me Mr. (video)
---

Click on box above to check out the DMDB on Facebook.
---
Last updated October 10, 2011.