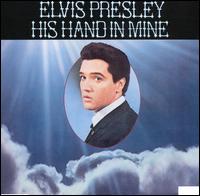 Released: Nov. 10, 1960
---
Rating:

---
Genre: gospel
---
Quotable: "one of the best…gospel sessions of all time" – John Bush, All Music Guide
---
Album Tracks:
His Hand in Mine
I'm Gonna Walk Dem Golden Stairs
In My Father's House
Milky White Way
Known Only to Him
I Believe in the Man in the Sky
Joshua Fit the Battle
He Knows Just What I Need
Swing Down Sweet Chariot
Mansion Over the Hilltop
If We Never Meet Again
Working on the Building
---
Sales:
---
Peak:

13


3
---
Singles/Hit Songs:
Milky White Way (3/66) --
Joshua Fit the Battle (3/66) –
You'll Never Walk Alone * (4/20/68) #90 US, #44 UK, #73 CW
* bonus track from 2003 reissue
---
Notes: The 2003 reissue added "It Is No Secret," "You'll Never Walk Alone," and "Who Am I." In 2008, another reissue kept the original 12 songs along with "It Is No Secret" and added "There'll Be Peace in the Valley for Me," "I Believe," and "Take My Hand, Precious Lord." Those four songs comprised the 1957 EP Peace in the Valley and were on Elvis' Christmas Album later that year.
In 1994, this album was packaged along with Elvis' two other gospel albums and some bonus tracks on the double-disc Amazing Grace. In 2000, the three albums were repackaged again, along with bonus tracks, on the box set Peace in the Valley – The Complete Gospel Recordings.
---