Review:
"Soul, sex, excess: everything U listen 2 Prince 4." BL "It took Prince three years to nail a worthy follow-up to 1984's 13-times-platinum Purple Rain," BL but this double album, "the most expansive R&B record of the Eighties," RS500 shows Prince pushing "his own boundaries on a sprawling rock-soul soundscape dotted by searing messages and wild mood swings." UT It "silenced people…wondering whether superstardom had made Prince lose his touch," DBW reminding the world he was "merely the most gifted pop musician of his generation." RC
"With songs culled from a series of aborted albums" TL – including the "the aborted triple album Crystal Ball and the abandoned Camille project" AMG – "during the nadir of Prince's Purple Rain hangover, Sign O' the Times has no business being anything but a career-sinking mess." TL Instead, it not only "topped [Purple Rain] artistically," BL but "it's the best album of the '80s." TL
<!—Amazon Ad -->
"Fearless, eclectic, and defiantly messy," AMG "this kinky double disc" BL "falls into the tradition of tremendous, chaotic double albums like The Beatles, Exile on Main St., and London Calling – albums that are fantastic because of their overreach, their great sprawl. Prince shows nearly all of his cards here, from bare-bones electro-funk and smooth soul to pseudo-psychedelic pop and crunching hard rock, touching on gospel, blues, and folk along the way." AMG Along the way, he "electronically gender-bent his vocals and achieved epic musical sprawl without sacrificing intimacy." BL "Most of this is attributable to genius; Prince flips back and forth between R&B and rock like a kid popping wheelies." TL
For the first time since 1982's 1999, Prince eschewed his backing band, The Revolution, "and hit the studio by himself, putting together four sides that acknowledge all his musical influences while remaining uniquely his." DBW "He sounds liberated, diving into territory merely suggested on Around the World in a Day and Parade. While the music overflows with generous spirit, these are among the most cryptic, insular songs he's ever written." AMG
Sign ☮ the Times
"The lyrics show Prince in a rare state of maturity. Usually his lines range from overt sexual come-ons to garbled references to God, but here Prince actually has something to say. Prince decries the ills of society" RV on "the apocalyptic title track" RS500 " track among his alternating visions of hope and despair." RV When he does tackle his more traditional fare he does so with songs like The Cross, a "relgious rock anthem to die for," DBW and the "gender bending" DBW If I Was Your Girlfriend, in which Prince sings as 'Camille,' an "alter ego personified by scarily sped-up tapes." AMG The result is "the most disarming and bleak psycho-sexual song Prince ever wrote." AMG
If I Was Your Girlfriend
The Revolution do make an appearance on It's Gonna Be a Beautiful Night, "a funky, but slight live recording…[which] contains his first flirtation with rap." DBW Prince also delivers , "heavy funk" DBW on Hot Thing, "the Stax revamp on Slow Love," RS500 and the "lovely, complex ballad Adore with perhaps his finest vocal performance." DBW
There's also "the equally chilling Strange Relationship. These fraying relationships echo in the social chaos Prince writes about throughout the album. Apocalyptic imagery of drugs, bombs, empty sex, abandoned babies and mothers, and AIDS pop up again and again, yet he balances the despair with hope, whether it's God, love, or just having a good time. In its own roundabout way, Sign 'O' the Times is the sound of the late '80s – it's the sound of the good times collapsing and how all that doubt and fear can be ignored if you just dance those problems away." AMG
U Got the Look
I Could Never Take the Place of Your Man
---
Review Source(s):
---
Related DMDB Link(s):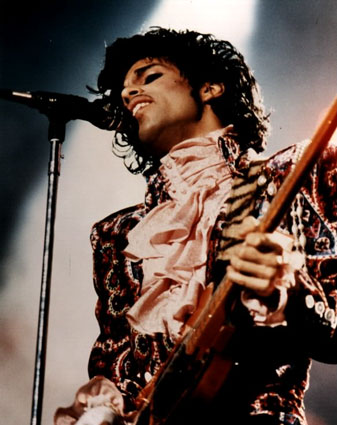 ---

Click on box above to check out the DMDB on Facebook.
---
Last updated January 21, 2013.