Review:
Nation isn't just considered to be the greatest rap album ever made by many, but is considered "one of the greatest and most influential albums of all-time" WK in any genre. The group itself has said they "set out to make what they considered to be the hip hop equivalent to Marvin Gaye's What's Going On, an album noted for its strong social commentary." WK
"Welding Chuck D's hectoring black-power agenda to the equality militant sound of the Bomb Squad's apocalyptic sample barrage, the fierce Nation made traditional rock & roll posturing seem museum-bound." BL "Yo! Bum Rush the Show was an invigorating record, but it looks like child's play compared to its monumental sequel, It Takes a Nation of Millions to Hold Us Back, a record that rewrote the rules of what hip-hop could do. That's not to say the album is without precedent, since what's particularly ingenious about the album is how it reconfigures things that came before into a startling, fresh, modern sound. Public Enemy used the template Run-D.M.C. created of a rap crew as a rock band, then brought in elements of free jazz, hard funk, even musique concrète, via their producing team, the Bomb Squad, creating a dense, ferocious sound unlike anything that came before." STE
"This coincided with a breakthrough in Chuck D's writing, both in his themes and lyrics." STE "Chuck D. scared the hell out of America's white parents with lyrics that praised Louis Farrakhan and a delivery that made retributive black violence seem inevitable, rational and – egad! – cool." TL
"It's not that Chuck D was smarter or more ambitious than his contemporaries – certainly, KRS-One tackled many similar sociopolitical tracts, while Rakim had a greater flow – but he marshaled considerable revolutionary force, clear vision, and a boundless vocabulary to create galvanizing, logical arguments that were undeniable in their strength." STE As Los Angeles Times critic Robert Hilburn said, Chuck D "isn't afraid of being labeled an extremist, and it's that fearless bite – or game plan – that helps infuse his black-consciousness raps with the anger and assult of punk pioneers like the Sex Pistols and Clash." WK
Chuck D's "deeply felt and commercially calculated radicalism was best expressed in Bring the Noise and Rebel Without a Pause, whip-smart, reference-filled songs saved from pretension by Flavor Flav, rap's greatest hype man, who even makes the prison break in Black Steel in the Hour of Chaos seem like daffy fun." TL
"Some of the song titles make reference to other works from popular culture. The song title 'Rebel Without a Pause' is a play on Rebel Without a Cause, a film from 1955 starring actor James Dean. The title of the track Louder Than a Bomb was influenced by the title of The Smiths' album Louder Than Bombs. The title of the song Party for Your Right to Fight is a rerrangement of the Beastie Boys' 1987 hit single '(You Gotta) Fight for Your Right (To Party!)'." WK
"Producers Bill Stephney, Hank Shocklee, and Terminator X – known as The Bomb Squad – laced every track with siren-wails and funk explosives that ratcheted the tension ever higher." TL They developed "a dense and chaotic production style that relied on found sounds and avant-garde noise as much as it did on old-school funk." WK Shocklee has said, "Chuck's a powerful rapper. We wanted to make something that could sonically stand up to him." WK
"What's amazing is how the words and music become intertwined, gaining strength from each other. Though this music is certainly a representation of its time, it hasn't dated at all. It set a standard that few could touch then, and even fewer have attempted to meet since." STE
---
Review Source(s):
---
Related DMDB Link(s):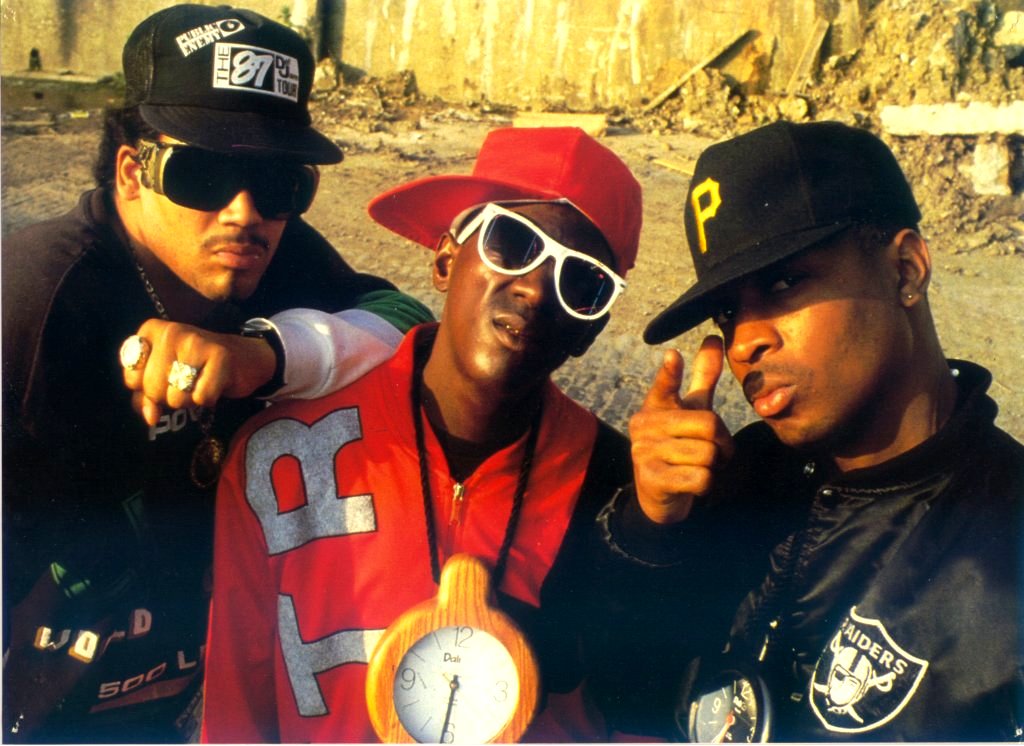 ---
Rebel without a Pause (live video on Yo! MTV Europe)
---
Bring the Noise (live video)
---
Don't Believe the Hype (video)
---
Night of the Living Baseheads (video)
---
Black Steel in the Hour of Chaos (video)
---

Click on box above to check out the DMDB on Facebook.
---
Last updated July 17, 2011.