Review:
"After a brief return to earth to deliver the tart, focused In Rainbows, Radiohead drift back into the ether with The King of Limbs. Like In Rainbows before it, the actuality of The King of Limbs is purposefully somewhat obscured by the hullabaloo surrounding the album's surprise release – announced for a Saturday release on a Monday, shifted to a Friday." STE Also like its predecessor, KOL was released in a digital only format initially – on February 18, 2011 – and then released in a physical format later – on March 28, 2011. WK
"In the case of KOL, such clamor is needed. Wispy and ephemeral, shimmering skin draped over the barest of bones, The King of Limbs doesn't deliberately lack a solid foundation, songwriting traded for sound construction. Masters of mood that they are, Radiohead digitally weave stuttering, glitchy loops of drums and guitars with real instruments, Thom Yorke's mournful moan and keening falsetto acting as a binding agent, creating an alluringly dour atmosphere." STE
"Despite a pair of intellectually funky moments – Morning Mr. Magpie and Little by Little, grouped together at the beginning, giving the album a slight hint of momentum that quickly fades – this is rather monochromatic and not too far removed from the territory Radiohead began etching out with Kid A. Where that icy 2000 effort had the bracing chill of the new, The King of Limbs is familiar – not commonplace, but carrying a certain inevitability as its eight songs slowly unspool. There are no surprises in the floating textures, no delight in the details, no astonishment in how the band navigates intricate turns: this is the sound of Radiohead doing what they do, doing it very well, doing it without flash or pretension, gently easing from the role of pioneers to craftsmen." STE As Pitchfork Media's Mark Pytlik said, it "well-worn terrain for Radiohead, and while it continues to yield rewarding results, the band's signature game-changing ambition is missed." WK
"With eight tracks, and just over thirty-seven minutes of music, The King of Limbs is Radiohead's shortest album to date. In 2009, commenting on the nature of future Radiohead releases, Thom Yorke stated that: 'None of us want to go into that creative hoo-ha of a long-play record again. Not straight off. I mean, it's just become a real drag. It worked with In Rainbows because we had a real fixed idea about where we were going. But we've all said that we can't possibly dive into that again. It'll kill us.'" WK
"Michael Brodeur of The Boston Globe praised 'the tense calm these eight songs maintain – a composure that feels constantly ready to crack', commenting that 'where In Rainbows was mellow but brisk – an album that felt on its way somewhere – these songs are eerie and insidious, creeping like shadows – and, often because of the haunting voice of Thom Yorke, the occasional chill.'" WK
PopMatters called it "a beautiful record, one that begs more of a conscious listen than its predecessor, but one that provides equal – if different – thrills in doing so." WK
Ann Powers, of the Los Angeles Times music blog, summarized the album's polarizing nature: "Some think it's one of the band's best efforts; others find it too low-key or similar to previous work; a few consider it awfully doomy, and a few others wish it were less abstract." WK
---
Review Source(s):
---
Related DMDB Link(s):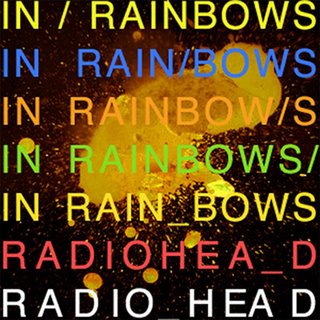 ---
Lotus Flower
---

Click on box above to check out the DMDB on Facebook.
---
Last updated March 30, 2011.