Review:
OK Computer "is art-rock at its most rewarding and contradictory." BN The album's "astonishing emotional and compositional complexity…catapulted [Radiohead] into the realm of idolatry," BN marking "these five Oxonians' departure from mainstream rock and their assumption of the title The Only Band That Matters." TL
The album "vigorously defies fast analysis, flip judgment and easy interpretation" RS as it "takes countless schizophrenic twists and turns." BN It is "subtly layered but startlingly bombastic, melancholic but beautifully serene, fractured and chaotic but completely sure of its own sonic ambition." BN It "rejects speed and hooks in favor of languorous texture and morose details." AZ Radiohead have "stripped away many of the obvious elements of guitar rock, creating music that is subtle and textured, yet still has the feeling of rock & roll." AMG It is a "spooky, atmospheric, intense and paranoid rumination on modern life – the kind of thing that would be insufferable if it didn't float along on a procession of gorgeous melodies…punctuated by Thom Yorke's elastic tenor." TL
Buy at Amazon:
"It's not always easy to determine which instrument makes which noise. The melodies are unorthodox and tangentia" QM and "Thom Yorke's voice effortlessly shifts from a sweet falsetto to vicious snarls." AMG "It's a thoroughly astonishing demonstration of musical virtuosity, and becomes even more impressive with repeated listens, which reveal subtleties like electronica rhythms, eerie keyboards, odd time signatures, and complex syncopations." AMG "Figure in waves of disorienting guitar effects, barely there rhythmic undercurrents, and eerie, ambient washes, and you've got one of the few rock masterpieces of the '90s." BN
"A lot of prog rock fans will get off on the album's more planetarium-compatible noises." QM The album "got compared to Pink Floyd a lot when it came out, and its slow drama and conceptual sweep certainly put it in that category." AZ It "is a majestic recording of fear and despair with sweeping soundscapes, adding beauty to…dour themes" RV on "the debilitating clutter of modern life and the desire to escape from it." BN It explores the idea that "the past is being perpetually deleted (with the future yet to be downloaded)." URB Musically, Radiohead matches such aims by crafting "an album about the way machines dehumanize people that's almost entirely un-electronic." AZ
The "spooky-and-marvellous" QM Lucky "released in September 1995 on the War Child compilation album Help, gave a tantalising indication of what their third album might contain." QM Marked by "the languid dive of Yorke's croon," RS this "gripping plea for rescue" QM is "absolutely storming and awe-inspiring." AD
Paranoid Android
The album's first single was "the complex, multi-segmented Paranoid Android," AMG a song packed with "alternating time signatures, wild dynamic shifts, drama and adrenaline to spare" VH1 is "a 'Bohemian Rhapsody' for the nineties." AD "As it incorporates several different styles into a single bombastic symphony of dread," RV it "easily draws comparisons to The Beatles' 'A Day in the Life'" RV as well. At "six-and-a-half minutes long [one of its] three sections…even has its own sub-section. There's a terrific, jazzy 7/8 part with electric piano and deep-grooving bass; there's a hefty dose of blistering rock (with two guitar solos); and there's a truly awesome vocal harmony sequence reminiscent of a load of monks chanting a particularly intense extract from David Bowie's 'The Man Who Sold the World.'" QM
The album itself is introduced by Airbag, which features "Greenwood's King Crimson-style guitar chords," QM "a deeply sinister soundtrack of Mellotron…reggae-style bass (Colin Greenwood) and hissing, spitting drums (Phil Selway)." QM
The "brilliantly titled Subterranean Homesick Alien" AD delves into "the terror of alienation." RV This "shimmering" AMG song "has wonderful, tingling, golden guitars and 'Riders on the Storm'-style electric piano" QM supported by "evocative lyrics, spooky sounds and wonderful atmospheres." AD
"The gothic crawl" AMG and "bleak, langorous despair of Exit Music (For a Film)" BN makes for "a gem of a song…It concerns two young lovers leaving home and going on the run…Jonny Greenwood's Mellotron produces an unearthly choir of basses and sopranos as one of the runaways implores the other, 'Breathe, keep breathing, I can't do this alone.' Then, during a murderous surge of drums and fuzz bass, the picture goes fuzzy. The fog clears just in time to hear Yorke moan the last, startling line: 'We hope that you choke.'" QM
The "sighing" AMG and "superb Karma Police, written about a party full of scary people, is what might have resulted musically had The Bogus Man-period Roxy Music ever tried to play 'Sexy Sadie' by The Beatles." QM
"Radiohead travels through the euphoria of hopelessness" RV on Let Down, "with its double-tracked vocals and rhythmic throb." VH1 The song "begins like a delicately chiming appendix to [U2's] The Joshua Tree, but then crazy synthesizers start to fly in from all directions, like a laser show…As [its[ guitar arpeggios drip-drip-drip into the brain, Yorke – one of very few singers whose voice can appear to convey genuine grief (as opposed to pain) and despair (as opposed to frustration) – delivers a remarkable vocal: falsetto, glorious harmonies, total and utter desolation. His voice has the terrible shiver of a toddler who can't for the life of him stop crying." QM
Karma Police
"The bizarre…Fitter Happier freaks you out." AD "An aural nightmare with no precedent in Radiohead's work, it's a poem of doom, centred in the workplace and recited by a pre-programmed Apple Mac that sounds like Stephen Hawking's electronic voice." QM
"The breakneck (and somehow unsatisfying) Electioneering," QM complete with its "bleak, R.E.M.-ish clatter," RS "was an early U.S. Radiohead record label favourite, 'a potential hit', before it finally reached OK Computer and was turned into a delightful yet impassioned guitar mess." AD
This "collaps[es] into the uneasy trip-hop of Climbing Up the Walls," QM a song dealing with "the degradation of obsession." RV
"It now seems as though OK Computer's second half will comprise nothing but menace and cacophony. Suddenly, however, there's a respite…In fact, the final three-song sequence has more control, more room to breathe (and arguably more beauty) than any other part of the record." QM
No Surprises
"The slow and emotionally draining closing five minute long epic" AD "No Surprises is Radiohead's prettiest moment to date, using dulcimer and Christmassy synth textures to decorate Ed O'Brien's exquisite guitar refrain." QM "Yorke glares…cynically and…disgustedly at life…'I'll take a quiet life, a handshake of carbon monoxide and no alarms and no surprises, please.'" QM
"The Tourist…is an unexpectedly bluesy waltz. It's not easy to play a waltz with anxiety, let alone the panic felt by Yorke's hyperventilating traveller, but they do. As it reaches its final bars, the three guitars fall out, leaving just Phil Selway's brushed cymbals, a couple of plucks of Colin Greenwood's bass and – finally – the 'ding' of a tiny bell. And that is that." QM
"OK Computer takes a few listens to appreciate, but its entirety means more than any one song." AZ It "is the album that establishes Radiohead as one of the most inventive and rewarding guitar-rock bands of the '90s" AMG and "one of the greatest albums ever made." AD
---
Review Source(s):
AMG All Music Guide review by Stephen Thomas Erlewine
AZ Amazon.com review by Douglas Wolk
BN Barnes & Noble review by Colin Helms
QM Q magazine review by David Cavanaugh. Was at Q4music.com. Review no longer online.
RV The Review "100 Greatest Albums of All Time" by Clarke Speicher (October – November 2001; Vol. 128: numbers 12-23).
RS RollingStone.com review by David Fricke
TL Time Magazine's All-TIME 100 Albums by Josh Tyrangiel and Alan Light (11/13/06).
URB URB magazine. "The 50 Greatest Albums Ever" (July 2003).
VH1 VH1. (2003). 100 Greatest Albums. Edited by Jacob Hoye. Pocket Books: New York, NY.
---
Related DMDB Link(s):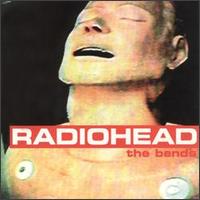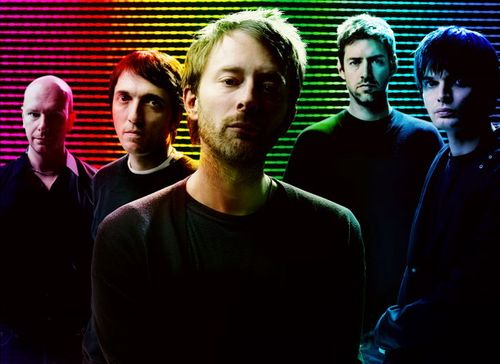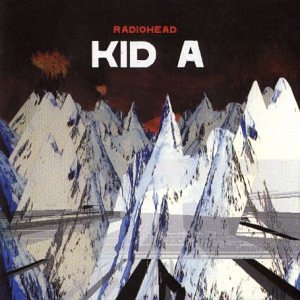 ---

Click on box above to check out the DMDB on Facebook.
---
Last updated January 17, 2013.