Review:
"Prog rock, prepare to die." BL "Like the Pistols and the Velvet Underground, it's hard to overstate the importance of the Ramones in the development of post-punk and alternative music." PK "Music historians long ago decided that Ramones is punk rock's Rosetta Stone." TL This "29-minute explosion of bratty speedy unschooled punk knocked the wind out of art-rock." UT As Joey Ramone said, "Rock & roll had got bloated and lost its spirit." BL
"Legend has it that Joey, Johnny, Dee Dee and Tommy spent a total of $6,400 recording this debut." TL The question is, "Where'd all the money go? These…tracks sound like they were mixed on a runway at LaGuardia, but the playing is impressively clean…and Joey's singing proves you don't need range to sound exuberant." TL
<!—Amazon Ad -->
"The Ramones highlight the difference between American and British punk in the mid-1970's – unlike the Pistols and other British punk bands, who had a frequently political message (if an occasionally garbled one) behind their aggressive and stripped down music, the Ramones opted for a raw, regressive sound without the political sloganeering. I Wanna Be Your Boyfriend has nothing in common with 'Anarchy in the UK,' save a DIY aesthetic that had no need for the pretentious artistry which had seized control of mid-70's rock music." PK
I Wanna Be Your Boyfriend
By way of "ripped denim, dumb lyrics and fuzz-toned guitars," BL the Ramones delivered a collection of "imaginative reductions of early rock & roll, girl group pop, and surf rock." AMG "Classic rock fans ambivalent about 'punk' should recognize that the Ramones were really just the Beach Boys on speed: a '1-2-3-4' intro, simple 4/4 beat, and 3 surf guitar chords played at rapid-fire pace…Of course, instead of singing about surfing and riding in hot rods, the Ramones sang about glue-sniffing misfits." PK The Ramones "reminded their fans that music is supposed to be fun, loud and fast, like The Beatles and The Beach Boys before they strove to be 'artists.'" RV
53rd & 3rd
Songs like Judy is a Punk, 53rd & 3rd and Blitzkrieg Bop "succeed mostly because of the pop influences at their core." TL The latter, with its "three-chord assault," AMG includes the "famous 'Hey! Ho!/ Let's go!'…[as] an homage to the Bay City Rollers," TL a decidedly pop group.
Blitzkrieg Bop
The Ramones begins at a blinding speed and never once over the course of its 14 songs does it let up." AMG "None of the songs clock in at any longer than two and half minutes, and most are considerably shorter." AMG "The Ramones is all about speed, hooks, stupidity, and simplicity." AMG "It's easy to consider Ramones a dumb album, considering the quirky lyrics, a nuance-free lead singer, simple three chord progressions and band members who haven't quite learned to play their instruments. But the album is a carefully disguised act of rock criticism, knocking down rock 'n' roll's idols." RV
"Not only is the music boiled down to its essentials, but the Ramones offer a twisted, comical take on pop culture with their lyrics." AMG "Songs about sniffing glue and headbanging would never again prove so incredibly revolutionary." RV They also offer "the horror schlock of I Don't Wanna Go Down to the Basement, the drug deals of '53rd and 3rd', the gleeful violence of Beat on the Brat, or the maniacal stupidity of Now I Wanna Sniff Some Glue." AMG
Beat on the Brat
"And the cover of Chris Montez's Let's Dance isn't a throwaway – with its single-minded beat and lyrics, it encapsulates everything the group loves about pre-Beatles rock & roll. They don't alter the structure, or the intent, of the song, they simply make it louder and faster." AMG
"In comparison to some of the music the album inspired, The Ramones sounds a little tame – it's a little too clean, and compared to their insanely fast live albums, it even sounds a little slow – but there's no denying that it still sounds brilliantly fresh and intoxicatingly fun." AMG "Only The Beatles can claim to have influenced more bands than Joey Ramone, whose group somehow defined punk music and gave rise to an entire music movement." RV "Within 12 months [of the album's release], thousands picked up guitars, and punk rock grabbed headlines." BL
Now I Wanna Sniff Some Glue
---
Review Source(s):
---
Related DMDB Link(s):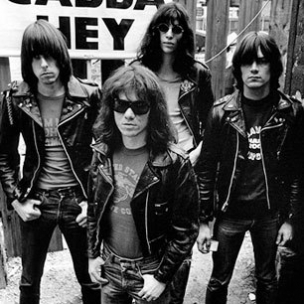 ---

Click on box above to check out the DMDB on Facebook.
---
Last updated January 23, 2013.