Review:
"Wednesday Morning, 3 AM doesn't resemble any other Simon & Garfunkel album, mostly because their sound here was fundamentally different from that of the chart-topping duo that emerged a year later. Their first record together since their days as the teen harmony duo Tom & Jerry, the album was cut in March 1964, at a time when both Simon and Garfunkel were under the spell of folk music. As it had in 1957 with 'Hey, Schoolgirl,' their harmonizing here came out of the Everly Brothers' playbook, but some new wrinkles had developed – Paul Simon was just spreading his wings as a serious songwriter and shares space with other contemporary composers." BE
"The album opens with a spirited (if somewhat arch) rendition of Gibson and Camp's gospel/folk piece You Can Tell the World, on which the duo's joyous harmonizing overcomes the intrinsic awkwardness of two Jewish guys from Queens, New York doing this repertory. Also present is Ian Campbell's The Sun Is Burning, a topical song about nuclear annihilation that Simon heard on his first visit to England as an itinerant folksinger the year before." BE
"But the dominant outside personality on the album is that of Bob Dylan – his Times They Are A-Changing is covered, but his influence is obvious on the oldest of the Simon originals here, He Was My Brother. Simon's first serious, topical song, dealing with the death of a freedom rider – and dedicated to Simon's slain Queens College classmate Andrew Jacobs – it was what first interested Columbia Records producer Tom Wilson in Simon & Garfunkel." BE
"By the time the album was recorded, however, Simon had evolved beyond Dylan's orbit and developed a unique songwriting voice of his own, though he still had some distance to go. His other originals betray the artifice of an English major at work, sometimes for better, as on Sparrow and the original, all-acoustic release of The Sound of Silence, and at times for worse, on the half-beautiful but too-precious title song (which he would re-write more successfully as 'Somewhere They Can't Find Me')." BE
"There are also a pair of traditional songs, a beautifully harmonized rendition of Peggy-O – which they probably picked up in Greenwich Village, or from recordings by Dylan or Joan Baez – and Go Tell It On the Mountain, both of which fit well into the zeitgeist of the folk revival." BE
"The record didn't sell on its original release, however, appearing too late in the folk revival to attract much attention – Bob Dylan was already taking that audience to new places by adding electric instruments to his sound. But the seeds of the duo's future success were planted when, months after the album had been given up for dead – and the duo had split up – the all-acoustic rendition of 'The Sound of Silence' started getting radio play on its own in some key markets, which possessed to producer Wilson to try and adapt it to the new sound, overdubbing an electric band." BE
---
Review Source(s):
---
Related DMDB Link(s):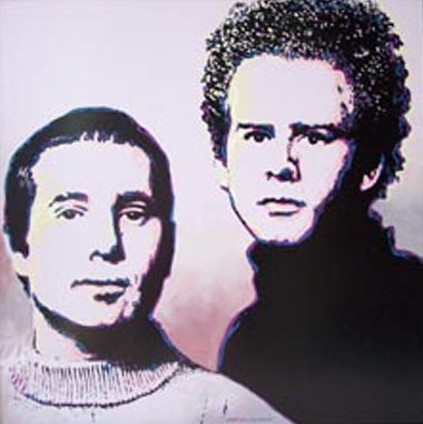 ---

Click on box above to check out the DMDB on Facebook.
---
Last updated May 4, 2011.