Review:
On Graceland, Paul Simon introduced world music into a pop arena by "combining his always perceptive songwriting with the little-heard mbaqanga music of South Africa, creating a fascinating hybrid that re-enchanted his old audience and earned him a new one." AMG "The story goes that Simon heard a tape called Gumboots: Accordion Jive Hits, Volume II and immediately hopped a flight to Soweto to learn more about the township jive called mbaqanga." TL In reality, it was a few months later, but it remains "the most spontaneous thing the world's most rational songwriter is even rumored to have done, and that sense of liberation and adventure is all over Graceland." TL
The "former folkie" UT gave "world music…a global stage" UT by throwing "his ears open to a host of new players and singers" TL and creating "exotically fanciful collaborations with such African talents as Ladysmith Black Mambazo," UT "Boyoyo Boys, Tao Ea Matsekha and, back in the U.S., the Mexican-American group Los Lobos." TL He also "incorporated a great number of musical styles, including zydeco, Tex-Mex and African vocal music." NRR It also "delved into…conjunto-flavored rock & roll" AMG and tapped "accomplished musicians…[like] Linda Ronstadt, Adrian Belew, Los Lobos, the Everly Brothers and Youssou N'Dour." NRR
Graceland
"As eclectic as any record Simon had made," AMG it also marked "a surprising new lyrical approach (presaged on some songs on Hearts and Bones):" AMG "Graceland was the first album Simon ever made in which the rhythm tracks were recorded first, and the exuberant, propulsive tempos make even his gorgeous lament 'Losing love/ Is like a window in your heart/ Everybody sees you're blown apart,' seem buoyant." TL
Simon largely eschewed "a linear, narrative approach to his words," AMG and evoked "striking images and turns of phrase torn from the headlines or overheard in contemporary speech." AMG He experimented with exotic rhythms and chord structures, RV be it on the "highly poetic Diamonds on the Soles of Her Shoes" AMG or the "satiric I Know What I Know." AMG
You Can Call Me Al
Ladysmith Black Mambazo served up "stirring harmonies" VH1 on songs like "Soles" and "the almost entirely a capella Homeless." RV Both were "exquisitely melancholic evocation[s] of African beauty and desolation." VH1 An element of humor shows up in the hit single, You Can Call Me Al VH1 and songs like The Boy in the Bubble showed Simon had "evolved as a lyricist on this album with lines that took on an almost Dylan-esque quality." RV The song's "pensive refrain…was as hopeful and socially conscious as any song he would ever write: 'The way we look to a distant constellation / That's dying in the corner of the sky / These are the days of miracle and wonder.'" RV
The Boy in the Bubble
The music presented listeners with "that magical combination: something they'd never heard before that nevertheless sounded familiar." AMG "The South African angle…was a powerful marketing tool," AMG but it wasn't without controversy. The United States had imposed economic sanctions on South Africa because of its apartheid government RV and the United Nations initially blacklisted Simon for violating the boycott. TL
"It is difficult now to recall the enormous impact of this trans-cultural album," VH1 but Graceland "became the standard against which subsequent musical experiments by major artists were measured." AMG With it, Simon created music "heard across the globe" AZ and it still reaches "generations of music enthusiasts…unaware of how pivotal that one album was" AZ in birthing "the idea of World Music." AZ
---
Review Source(s):
AMG All Music Guide review by William Ruhlmann
AZ Amazon.com review
RV The Review "100 Greatest Albums of All Time" by Clarke Speicher (October – November 2001; Vol. 128: numbers 12-23).
TL Time Magazine's All-TIME 100 Albums by Josh Tyrangiel and Alan Light (11/13/06).
UT USA Today, Top 40 Albums – the USA Today Way (12/5/2003).
VH1 VH1. (2003). 100 Greatest Albums. Edited by Jacob Hoye. Pocket Books: New York, NY.
---
Related DMDB Link(s):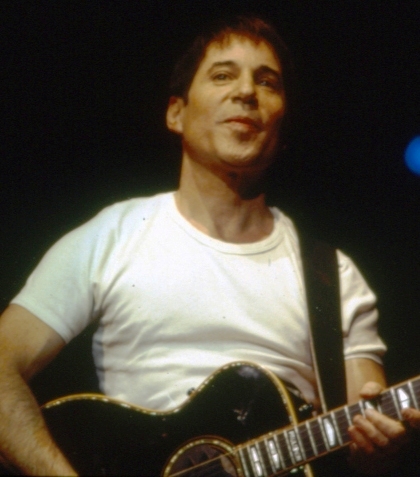 ---
Buy at Amazon:
---

Click on box above to check out the DMDB on Facebook.
---
Last updated August 11, 2012.