Review:
A case could be made for Patti Smith, "the waif-like poetess," WR "as a punk rock progenitor based on her debut album." AMG She "and her crack band blazed a new trail in this brazen hybrid of literary smarts and feral rock." UT "The simple, crudely played rock & roll, featuring Lenny Kaye's rudimentary guitar work, the anarchic spirit of Smith's vocals, and the emotional and imaginative nature of her lyrics – all prefigure the coming movement as it evolved on both sides of the Atlantic." AMG "Like a lot of the proto-punk artists, Smith was romanticizing rock 'n roll's past" EK while also "breaking new ground…the hallmark of great artists." JM
Smith's vocals are "an acquired taste, and the music is at times a jarring mix of '60s Nuggetry (thank you Lenny Kaye) and free-form avant-garde" EK fused with "classical verse, feminism, [and] punk." "Art, bohemia, poetry, rock 'n' roll, reggae, sex, and salvation crash and burn together." VB There are "a couple of rather esoteric nine-minute readings…and Patti's somewhat casual relationship with phonics can make for a challenging listen if you don't have a lyric sheet right handy." EK Despite that, she demonstrates an "ability to construct an album that simultaneously looks forward and backward;" JM she also deserves "props for her flair for the theatrical." JM In addition, John Cale (formerly of the Velvet Underground), deservies recognition for his production which "respected Smith's primitivism in a way that later producers did not." AMG

<!—Amazon Ad -->

The album's most important contribution may have been how she was "interested in bringing together high art and low three-chord rock & roll." AZ While she "emerged from the same punk scene as the Ramones, [this is] a far cry from [their] three-chord jokiness." RV "The melodies carry the influence of Van Morrison, Wilson Pickett and The Doors." RV "The loose, improvisatory song structures worked with her free verse to create something like a new spoken word/musical art form: Horses was a hybrid, the sound of a post-Beat poet, as she put it, 'dancing around to the simple rock & roll song.'" AMG Her "vision of extremist poetry and rock music" BL makes the album "sound like it belongs on a syllabus for a class few people would willingly take." TL

"Smith's background as a rock critic and poet is equally in evidence." NRR "This seems to be the ultimate insider's album." EK It is "a rock critic's dream, a poet as steeped in '60s garage rock as she is in French Symbolism." AMG This is "Rimbaud with punk guitars." BL

"Despite her obvious mastery of rock 'n roll," JM Smith was "some what of an anomaly." JM "It's a sad fact that pop music has been, and in many ways continues to be, a boys' club." EK However, with Horses, "a woman had finally taken the reins of the rock chariot" JM showing "she could beat the boys at her own game." JM Her boyfriend, Robert Mapplethorpe, "took the sleeve photo, which showed Smith a creature beyond gender, the music's perfect pictorial analogue." WR "Her artistry, honesty and female empowerment paved the way for future femme rockers Liz Phair, Alanis Morrissette and PJ Harvey." RV

Gloria

"The album's most memorable words are its first: 'Jesus died for somebody's sins, but not mine.'" TL She and her band "swagger through a complete reinvention of Van Morrison's Gloria." TL "This song sets the tone of an alienated woman striving for catharsis with naked lyrics and vigorous guitar riffs." RV "You realize you are in the presence of a master, someone who can take the poetic pretensions of the Lizard King and do them up right. Someone with the same blend of lasciviousness and aloofness as Jagger in his prime." EK It makes for "one of the greatest side one/track ones of all time." EK

She reimagines songs like that and Land of a Thousand Dances by adding her own "provocative and unflinching lyrics," NRR resulting in something which feels "far more romantic and revolutionary than any mere poetry." TL It "takes a skilled musician to turn the 'jock rock' mainstay…into a three-part suite comparable to The Doors' 'The End.'" RV

Land

"Smith exposes her soul like no other rocker when she intones, on Break It Up, 'I ripped my skin open and then I broke through.'" RV The title track I"was an eight minute stream-of-consciousness ending in sonic orgasm." WR While "some of Smith's songwriting gets buried in its stylistic affectations (there's a great song under Redondo Beach's fake reggae)," AZ this is still "a rock record of overwhelming power" TL built on "Smith's persona of volume, cunning and exile, and it comes through distinctly." AZ "Clearly a landmark." BL
---
Review Source(s):
---
Related DMDB Link(s):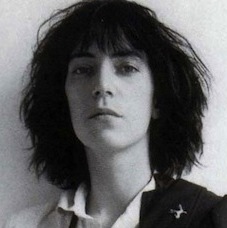 ---

Click on box above to check out the DMDB on Facebook.
---
Last updated February 18, 2013.