Review:
"The distraction of a Tim Finn solo project (1983's Escapade) may have robbed Split Enz of the creative momentum produced by Time & Tide; Tim obviously spent much of his energy on that project, leaving him with a minority of songwriting credits for the first time since taking leadership of the band. So, despite a strong batch of songs from Neil — which includes the achingly beautiful love song "Message to My Girl" and the contemplative Our Day, which intimates the thoughts of the soon-to-be father — the album suffers from a general lack of focus. A misguided overreliance on drum machines and generally heavy-handed production are the real downfall, though, ultimately dating a solid though unexceptional album. The telling title track, as well as the album closer, Bon Voyage" (Woodstra), the latter of which is "vintage Tim" (ConnollyCo.com), "hinted at Tim Finn's imminent departure from the band" (Woodstra).

"Conflicting Emotions indeed, as Tim Finn would soon split the Enz for a solo career. With Tim distracted by his own Escapade, brother Neil and Eddie Rayner rowed harder to keep the band afloat. They succeed in some cases, notably on the beautiful ballads Message to My Girl (though I'm tempted to call it a Squeeze knockoff) and The Devil You Know. But Tim's overtapped well of ideas and Neil's overtaxed share of the songwriting meant that second-string ideas like Bullet Brain and Cactus Head found themselves pressed into service. Rayner's production touch is hardly invisible, with lots of mechnical effects (he's credited with keyboards and "machines," if that's any indication) layered in the arrangements. Sometimes the busy arrangements bury a good idea (No Mischief), sometimes they amplify it (Straight Old Line)." (ConnollyCo.com). The latter is "as fine as fish as you'd find in Time and Tide's catch" (ConnollyCo.com).

It would be nice to "say the band went out with a bang, [but] it was more of a mechanical clank. Time and Tide and True Colours were great albums, Waiata and Frenzy good ones, but Conflicting Emotions is merely okay. The band replaces emotion with effects, and the prickly-sweet adventures of old become agitated encounters…the subsequent See Ya Round is one worth ditching, so this may be as far as some Split Enz fans are willing to venture" (ConnollyCo.com).
---
Review Source(s):
---
Related DMDB Links: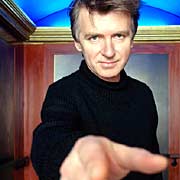 ---
Last updated April 7, 2008.