Review:
"There will be those that believe a millionaire rock star singing about poor people and hard work, as Bruce Springsteen so passionately does on his powerful new album Wrecking Ball, to be the height of hypocrisy. But to do so would be both shortsighted and uninformed. First, as a pedigreed Jersey shore rat raised in economically depressed Freehold, N.J., Springsteen knows a thing or two about economic frustration. And, secondly, anyone who has seen Springsteen perform at any one of thousands of shows over the past 40 years, with or without his E Street Band, is well aware that he packs his lunch pail every night and welcomes overtime." BB
On his 17th album, Springsteen "soars on familiar strengths: passion, roadhouse swagger, muscular melodies and a fighting spirit." UT "With its gritty portrayal of the danger at hand when lives are lived on the edge of collapse," BB Ball explores "familiar working class territory, but with a vigor and fearlessness not seen since 2002's equally-inspired The Rising." BB While "The Rising will always be remembered as Springsteen's '9-11 album', it's a safe bet that Wrecking Ball will go down as his 'Occupy album'." PM Ball occupies the same space as Woody Guthrie's 'This Land Is Your Land,' celebrating the possibilities of the American Dream while acknowledging the pain of its failures." AV
Springsteen's manager, Jon Landau, says, "Bruce has dug down as deep as he can to come up with this vision of modern life…The writing is some of the best of his career." AZ Springsteen has always been adept at creating "specific character vignettes that speak to larger social concerns," PM but here his protagonists "are less elusive about whom to blame for their troubles…taking on the real culprits unambiguously." PM "On a tear to raze Wall Street and raise Main Street, Springsteen grapples with Everyman frustration and dread" UT and the devastation brought on by "Wall Street greed and corruption." WK It is "his angriest and most politically pointed [work] to date." UT
The album has largely been reported to be "'wild' and 'experimental'" PM and, indeed, it is "very rock and roll with unexpected textures, loops, electronic percussion, and an amazing sweep of influences and rhythms, from hip-hop to Irish folk rhythms." WK "Ron Aniello was brought in to produce Wrecking Ball, a move that paid off…the sonic embellishments gracefully support the songs and rarely feel indulgent or detract from the almighty melodies on the record." PM Landau describes it as "a rock record that combines elements of both Bruce's classic sound and his Seeger Sessions experience, with new textures and styles." AZ
The album is notable for its inclusion of Clarence Clemons' last work with Springsteen and the E Street Band before his death in June 2011. WK The album also features E Street Band members Steven Van Zandt, Max Weinberg, and Patti Scialfa. WK Touring members Charlie Giordano and Soozie Tyrell are also featured, WK as are special guests Tom Morello and Matt Chamberlain. WK However, Springsteen mostly "relies on players from 2006's We Shall Overcome: The Seeger Sessions, Wrecking's closest cousin in his catalog." UT
First single, We Take Care of Our Own, is a "pounding, patriotic rocker [which] serves as the album's moral compass." BB It uses some of the same "gospel-soul influences that informed 'My City of Ruins', a song that asked for spiritual redemption in the wake of 9-11." PM "Take Care" "puts forward the radical idea that poor people are actually worthy of dignity and respect." AV It is one of Springsteen's classic "scathing message songs that sound patriotic, an irony lost on nearly everyone who hears them." PM On top of that, "the whomping beat and cinematic string swooshes are rousing in an inescapably Pavlovian sense." AV
"The heat-packing protagonist out looking for Easy Money rails against 'all them fat cats' who think his desperation is funny" PM in this "midtempo two-step hootenanny." PM "Rootsy and percussive, …[it] features one of Springsteen's more charismatic vocals and free-wheelin' lyrics but, with its talk of Smith & Wessons and burnin' hellfire, the song's undercurrent of rough intentions belies its jaunty musicality and bright choral arrangement." BB
Then in "Shackled and Drawn, a hammer-slinging chant mined from the great folk songbooks," PM Springsteen advises "Stand back, son, and let a man work." "Cajun inflections and a sprightly rhythm power this workingman anthem, but once again Springsteen juxtaposes the music against frustration and powerlessness." BB
Jack of All Trades is "a gorgeous, piano-based ballad" BB complete with a trumpet solo and guest Tom Morello "lending one of his patented machine-shop guitar solos." PM A man assures "his love he's willing to do whatever labor necessary for them to get by." BB His "anger at the rich bubbles shockingly to the surface in the final verse ('If I had me a gun / I'd find the bastards and shoot 'em on sight')." AV
"While 'Jack Of All Trades' sounds like a funeral, the St. Patty's Day penny-whistle march of Death to My Hometown is the wake, with Springsteen slipping into a well-soused brogue and leading a charge" AV against "the 'vultures' and 'greedy thieves' who 'destroyed our families' factories and…took our homes' and hopes to 'send the robber barons to hell'." PM "It's the record's fieriest song, making like Dylan circa '63 by piling on a catalogue of grievances that build to a perfectly-timed shotgun cock-and-blast." PM
This is "a cohesively designed album, sequenced to rail against economic injustice by way of catchy, rattling folk-blues numbers on the first half of the record and to rise with spiritual redemption in the second half by way of train-a-comin' rafter-raising." PM There "is a pervasive element of desperation in Wrecking Ball, but nobody here is giving up. As such, on "the Arcade Fire-like, self-explanatory dirge This Depression" AV the album "starts to change focus, blending worry over financial plight with the need for a healing love." PM
"The whisper-to-a-scream title track," AV Wrecking Ball, was penned in 2009 in honor of the closing of Giants Stadium and was performed live during the supporting tour for Working on a Dream. WK It "takes on a whole new life in the context of this record." BB "The version here is a leaner, faster machine, one that combines folk Bruce and rocker Bruce as well as any." PM It is "a raging state of the union address enveloped in rootsy folk-rock" UT and Clarence Clemons' saxophone.
"Nothing here sounds much like '70s or even '80s Springsteen, but You've Got It comes closest to what Bruce used to sound like in its melody and Bruce's vocal delivery." PM This "lusty, bluesy mid-tempo" BB is the album's "lightest moment" BB and "will be the song that divides the Bruce believers, as it's the most fussily produced of the new songs." PM
"Musically ambitious and completely captivating," BB Rocky Ground speaks of a divine retribution for failing to take care of our own: 'We'll be called for our service come Judgment Day / Before we cross that river wide / Blood on our hands will come back on us twice.'" PM It "thematically fits perfectly with the tone of the album…but, with its inspired vocal arrangement, gospel underpinnings and Michelle Moore rap, it is unlike anything Springsteen has done before." BB
That song and Land of Hope and Dreams deliver a "gospel-influenced one-two punch" PM as a pair of "spirituals that promise new-day salvation for all lost but faithful souls." PM "Dreams" dates back to 1999's E Street Band reunion tour WK and served as a template for songs from The Rising. It has been reworked into "a brighter, peppier take than the one released on 2001's Live in New York City, and when Clarence's unmistakable sax (one of just two appearances on the album) busts out of the bridge, it'll bring you to your knees." PM It is "a broad, anthemic slice of Americana" BB which has been called "one of Springsteen's finest modern originals," PM but also knocked as "a self-conscious anthem that paints broadly rendered populist imagery about a train carrying 'losers and winners' to a mythical place beyond the stars. It's an uplifting statement…[but it] is a stump speech, not an artfully rendered short story." AV
Closing track, We Are Alive, "could be alternatively titled 'Tales from a Graveyard'." BB It is "a campfire song for ghosts of the oppressed, martyred strikers, protesters, and immigrant workers. The song, which has an Irish-wake feel to it, is an acoustic number with Springsteen being backed by mariachi horns." WK The song "both thematically and musically, binds the record's two halves – pissed-off folk and gospel-laced rock." PM
The song is "ultimately optimistic, a fitting close to one of Springsteen's best albums" BB where he is "still firing on all cylinders – writing with poetic urgency, drawing on traditions old and new, singing and playing with prime strength and energy, and delivering a new set of killer melodies with fresh sonic wallop. At this stage in a rocker's career, it's a lot to ask for, but Springsteen proves again that there's nobody better to deliver it." PM
The special edition of the album adds bonus tracks Swallowed Up (In the Belly of a Whale) and American Land. The former continues the use of biblical themes also found in "Jack of All Trades," in which "the speaker hopes that 'we'll start caring for each other like Jesus said that we might'," PM "Rocky Ground", in which "we're reminded that 'Jesus said the money changers in this temple will not stand,'" PM and "We Are Alive," which "invokes "a cross up on Calvary Hill'." PM "Beyond the obvious allusion in the title, ['Swallowed'] calls on 'God's Mercy' as a matter of birthright." PM
"American Land," which dates back to 2006, WK is "an original, barn-burning Irish jig about the false promises of the American Dream." PM It originally appeared on an expanded edition of The Seeger Sessions. On that album, "Springsteen resurrected roots traditions—blues, gospel, folk, bluegrass—to serve as musical backdrops that tie old economic injustices to new ones." PM That album does much to inform this one as Springsteen dipped his toe into the sound of Americana with "trombones, banjos, washboards, and accordions while covering Pete Seeger tunes." PM
---
Review Source(s):
---
Related DMDB Link(s):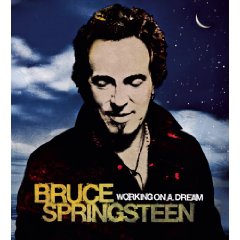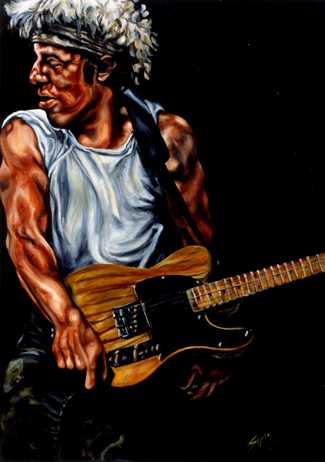 ---
We Take Care of Our Own (video)
---
Wrecking Ball (live video, 2009)
---
American Land (live video, 2009)
---
Land of Hope and Dreams (live video, 1999)
---
Buy It!
---

Click on box above to check out the DMDB on Facebook.
---
Last updated March 6, 2012.