Review:
"There's almost no precedent for the Stone Roses…their debut was a fully formed gem that gave birth to an entire genre—Brit-pop." TL "Pop hooks [are] one thing, and dance rhythms [are] another, but it's also important to have dat swing, you know, and the band has it." GS The album "ushered in the era of Madchester," AZ "an indie rock phenomenon that fused guitar-pop with drug-fueled rave and dance culture." AMG At the time, "British youth were abandoning rock music en masse for acid-house sounds and communal raves" BN "and the charts were looking less than healthy." AD "There was a dearth of new talent - especially guitar bands." AD By bringing "dance music to an audience…previously obsessed with droning guitars [and reviving] the concept of classic pop songwriting," AMG the Stone Roses "almost single-handedly made British rock music hip again." BN
Through "classic psychedelia married with punk energy and rave swagger" BN, the Roses established themselves as "postmodern English, filtering folk-rock romanticism through Joy Division and Jesus and Mary Chain hyperromanticism." RC "The repercussions…could be heard throughout the '90s" AMG as the band spawned the sound of the guitar-based pop of Oasis and Blur, "gave birth to shoegazer bands like My Bloody Valentine," RV and were "a definite precursor of grunge." JA
They achieved their new sound by reaching into the past. "Quietly melodic" PK "prime 'sixties' harmonies" AD "owe far more to, say, Simon & Garfunkel than to New Order." PK "The wealth of melody on this record is almost embarrassing - only The Beatles ever dared exhaust so many good tunes in the space of an hour." IB The album "creates it's own world and atmosphere whilst simultaneously reminding you of almost every great sixties English group." AD It "takes 1960s pop, infuses it with the lyrical sensibilities of John Lennon and Joe Strummer, mixes in Motown rhythms, adds a dash of Sex Pistols and tops it off with a purple haze of instrumentation and production reminiscent of Jimi Hendrix." RV Ultimately, the album is "a crystallization of everything there is to love about the last 40 years of pop music." RV
<!—Amazon Ad -->
"Singer and lyricist Ian Brown infused [songs] with lyrics that flicked at epic romance…without veering into sentimentality." TL "The vocal melodies are well-written and sound fresh, sincere, and inspiring. And happy, too: this is one hell of a cheerful, optimistic record." GS He tapped "into an inscrutable mix of arrogant cool and sugar-spun sweetness." IB His "effortless malevolence is brought to life with songs that equal both his sentiments and his voice." AMG
Guitarist John Squire establishes himself as "a new hero for a new age," AZ deftly heading into the world of "guitar heroism without the attendant pomp and egomania." IB His "playing is endlessly inventive but never overwhelms the songs." IB His "layers of simple, exceedingly catchy hooks" AMG are "a thing of magic," AZ "recalling the British Invasion while suggesting the future with their phased, echoey effects." AMG He "lingered over chords like the Byrds' Roger McGuinn." TL His "chiming, arpeggiated guitars leave every song ringing with harmonics." IB
"Drummer Alan 'Reni' Wren's galloping, hiphop-influenced beats [are] a sonic infusion that became a fixture of '90s alt rock." JA Along with bassist 'Mani' Mounfield, the two "shift from charging beat-pop to fluid funkadelic grooves, sometimes in the space of a single song." IB They "always imply dance rhythms without overtly going into the disco," AMG establishing themselves as "one of the tightest British rhythm sections of the time." GS "This is as good as guitars, bass and drums can sound together, and if you don't get it, you probably have some disease that keeps you from liking music." IB
I Wanna Be Adored
I Wanna Be Adored is "a perfect album opener" AD "with it's slow, slow build up [and the] impeccably played musical backing" AD of Mani's "creeping bassline," AMG Squire's "waves of cool guitar hooks" AMG and Reni's "funky drummer shuffle." QM Through it all, Brown "reveals the band is driven by the devil to make great music. 'I don't need to sell my soul,' he sings. 'He's already in me.' When he wails, 'I wanna be adored,' the sentiment doesn't seem like an egotistical statement from a band in its infancy as much as it is a prelude to greatness. Brown sings with a vitriolic verve unheard since Johnny Rotten spread his gospel of rebellion and hate." RV
She Bangs the Drums
On She Bangs the Drums "the '60s hooks and the rolling beats manage to convey the colorful, neo-psychedelic world of acid house" AMG and "wind into the rhythm inseparably" AMG while displaying "a rush of guitars not heard since The Byrds invented folk rock." AD
Waterfall is "a luminous, druggy, Byrds-style ballad" JA "with it's delicate repeating guitar figure and it's dramatic ending." AD By leaning on "sixties-influenced studio gimmicks like backwards tracks and phasing," JA the Roses also play the song "backwards with a new forwards lead vocal" AD to create "Don't Stop."
Waterfall
Bye Bye Badman has "evocative lyrics that serve their purpose and sound great when sung." AD This and the "medieval" AD Elizabeth My Dear "prove that the Roses weren't too lazy and blissed-out to formulate their own idiosyncratic but laudably radical political agenda." QM The latter is set "against the backdrop of Simon and Garfunkel's 'Scarborough Fair,'" RV "Brown sings, 'Tear me apart and boil my bones / I'll not rest 'til she's lost her throne.' The song only lasts 59 seconds, but the ironic beauty endures well into the psychedelic punk of (Song for My) Sugar Spun Sister." RV
Made of Stone is an "atmospheric" and "heartbreaking, swoon-some classic pop rock song." AD "The band were justly proud of this and released it as a single." AD It "depicts the destruction of Manchester under dwindling industrialization and Margaret Thatcher's iron fist. 'When the streets are cold and lonely / And the cars they burn below me / Are you all alone / Are you made of stone?'" RV
Made of Stone
Shoot You Down has a "little shuffling rhythm" AD that "recalls '60s sources…like the Hollies." JA Similarly, This Is The One "is the best song the Byrds never wrote" QM – accompanied by "a mighty guitar workout." AD
While every song on the album "is knocking on the door of perfection…[the epic finale I Am the Resurrection] kicks it down, taking in bubblegum, Motown, and psychedelic funk on the way to a glorious instrumental climax that'll having you shaking your head in disbelief." IB It takes a certain amount of arrogance for a band to claim its [sic] the second coming, let alone an upstart. The Roses pull it off with ease. Brown snarls, 'I am the resurrection and I am the light / I couldn't ever bring myself to hate you as I fly,' sounding more like a villain than the messiah…By the time the band reaches its instrumental climax, it's easy to adore the Roses." RV
I Am the Resurrection
The band would never find a way to equal their debut. With their fame came subsequent legal battles to move from independent status to a major label. They eventually signed with Geffen and, five years after their debut, "reemerged…with the stodgy and wrongly titled Second Coming. The Stone Roses, however, remains a stellar contribution to the canon of classic debuts." BN It is "one of the finest records of the past 30 years." CL "Some albums really can change the world, and in 1989 this was one of them." AZ
---
Review Source(s):
---
Related DMDB Link(s):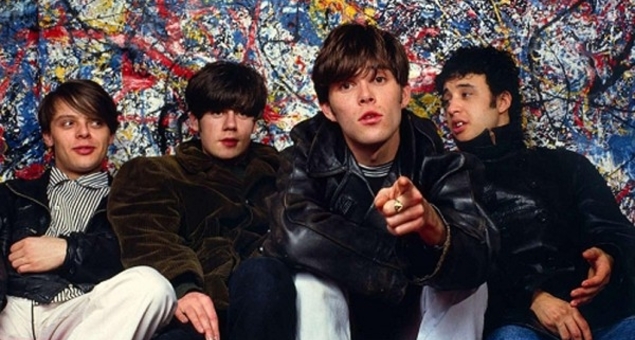 ---

Click on box above to check out the DMDB on Facebook.
---
Last updated January 30, 2013.