Review:
"When Streets' tracks first appeared in DJ sets and on garage mix albums circa 2000, they made for an interesting change of pace; instead of hyper-speed ragga chatting or candy-coated divas (or both), listeners heard banging tracks hosted by a strangely conversational bloke with a mock cockney accent and a half-singing, half-rapping delivery. It was Mike Skinner, producer and MC, the half-clued-up, half-clueless voice behind club hits Has It Come to This? and Let's Push Things Forward" (Bush).

"Facing an entire full-length of Streets tracks hardly sounded like a pleasant prospect, but Skinner's debut, Original Pirate Material, is an excellent listen – and almost as good as the heavy-handed hype would make you think. Unlike most garage LPs, it's certainly not a substitute for a night out; it's more a statement on modern-day British youth, complete with all the references to Playstations, Indian takeaway, and copious amounts of cannabis you'd expect" (Bush).

"Skinner also has a refreshing way of writing songs, not tracks, that immediately distinguishes him from most in the garage scene. True, describing his delivery as rapping would be giving an undeserved compliment (you surely wouldn't hear any American rappers dropping bombs like this line: 'I wholeheartedly agree with your viewpoint'). And a few songs, like Geezers Need Excitement, don't wear their Wu-Tang Clan influences very well, while It's Too Late piles on the melodrama with the ins and outs of a relationship" (Bush).

"Still, nearly every other song here succeeds wildly, first place (after the hits) going to The Irony of It All, on which Skinner and a stereotypical British lout go back and forth 'debating' the merits of weed and lager, respectively (Skinner's meek, agreeable commentary increasingly, and hilariously, causes 'Terry' to go off the edge)" (Bush).

"The production is also excellent; 'Let's Push Things Forward' is all lurching ragga flow, with a one-note organ line and drunken trumpets barely pushing the chorus forward. Sharp Darts and Too Much Brandy have short, brutal tech lines driving them, and really don't need any more for maximum impact" (Bush).

"Though club-phobic listeners may find it difficult placing Skinner as just the latest dot along a line connecting quintessentially British musicians/humorists/social critics Nöel Coward, the Kinks, Ian Dury, the Jam, the Specials, and Happy Mondays, Original Pirate Material is a rare garage album: that is, one with a shelf life beyond six months" (Bush).
---
Review Source(s):
---
Related DMDB Links: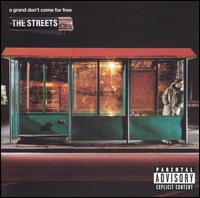 ---
Last updated March 29, 2008.