Review:
Van Halen's sixth outing, 1984, "was a successful record not only because it contained solid, catchy hard rock, but also because it incorporated synthesizers into the mix, the first metal album to do so to any serious extent." AZ However, that "hoopla…was a bit of a red herring since the band had been layering in synths since their third album, Women and Children First. Those synths were either buried beneath guitars or used as texture." AMG
"Of course, the mere addition of a synth wasn't enough to rope in fair-weather fans – they needed pop hooks and pop songs, which 1984 had, most gloriously on the exuberant, timeless Jump." AMG "The synths played a circular riff that wouldn't have sounded as overpowering on guitar, but the band didn't dispense with their signature monolithic, pulsating rock. Alex Van Halen and Michael Anthony grounded the song…and David Lee Roth simply exploded with boundless energy." AMG It was "one of the chief reasons [1984] became a blockbuster." AMG
Guitarist Eddie Van Halen says he came up with the arrangement for "Jump" years before the band recorded it. Roth says the lyric was inspired by leap year and a television story about a man who threatened to commit suicide by jumping off a building. WK
"Songs like 'Jump' contain a pop element that gave 1984 mainstream appeal, and David Lee Roth turned the frontman role into an art form." AMG However, the rest of the album captures "the same fiery band that's been performing with a brutal intensity since Women and Children First. But where those albums placed an emphasis on the band's attack, this places an emphasis on the songs, and they're uniformly terrific, the best set of original tunes Van Halen ever had." AMG As Rolling Stone's J.D. Considine said, it is "the album that brings all of Van Halen's talents into focus." WK
"The anthems Panama and Hot for Teacher grab center stage." AMG "The former is the band's signature sound elevated to performance art, with the latter being as lean and giddy, their one anthem that could be credibly covered by garage rockers." AMG "Top Jimmy, Drop Dead Legs, and the dense yet funky closer, House of Pain, are full-fledged songs, with great riffs and hooks in the guitars and vocals." AMG The latter is "a fast-paced heavy song that dates back to the band's early club days of the mid-1970s." WK
"It's the best showcase of Van Halen's instrumental prowess as a band, the best showcase for Diamond Dave's glorious shtick, the best showcase for their songwriting, just their flat-out best album overall. It's a shame that Roth left after this album, but maybe it's for the best, since there's no way Van Halen could have bettered this album with Dave around (and they didn't better it once Sammy joined, either)." AMG
"To a large extent, it was 1984 that set the standard for '80s pop metal, and David Lee Roth who set the standard (or takes the blame, depending on your point of view) for the aggressively good-time attitude most pop-metal bands took for their own." AZ
---
Review Source(s):
---
Related DMDB Link(s):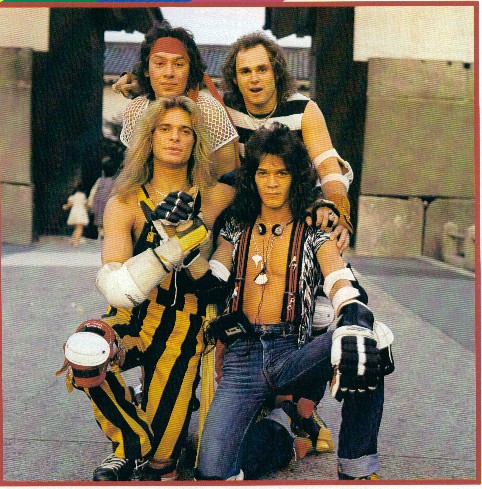 ---
Jump (video)
---
Panama (video)
---
Hot for Teacher (video)
---
I'll Wait (video)
<!—Buy It! -->
---

Click on box above to check out the DMDB on Facebook.
---
Last updated January 6, 2012.