Review:
"Van Halen's self-titled 1978 debut is undoubtedly one of the all-time best debuts by a hard rock/heavy metal band. All of the components for a classic are represented – excellent songs and high-octane performances…are used to create an invigorating, original sound. Like other acclaimed debuts (Led Zeppelin, Are You Experienced?), Van Halen has a raw edge since it was recorded quickly, and every single song is a winner." AMG
Eruption
"While singer David Lee Roth's bravado and the steady rhythm section of drummer Alex Van Halen and bassist Michael Anthony were both key ingredients, the main attraction was Eddie Van Halen's guitar playing" AMG which "sounds like a cross between an electric guitar and a howitzer." DV "Few other guitarists have had such an instant impact on a generation of up-and-coming players who copied his unorthodox, kamikaze style – especially…on the album's legendary solo, Eruption" AMG in which he "revolutionized the guitar community by introducing a technique called finger-tapping into the heavy metal lexicon." AZ
Runnin' with the Devil
"Even if you don't like…Roth's sex god schtick or …Eddie's…hyperactive hammering…it's impossible not to rock out to the California quartet's debut." DBW "Van Halen amply demonstrate their drive, showmanship, and musicianship throughout." AZ "Almost all of the tracks…have rightfully become radio staples." AMG "step back in awe at the sheer savagery with which the band attacks the opener Runnin' with the Devil." DV "Feast on the chiming chord shifts and monstrously fat chorus riffs of Ain't Talkin' 'Bout Love." DV "Cackle with glee at the sassy lyric and effortless virtuosity of I'm the One." DV
Ain't Talkin' 'Bout Love
The band also offers a "driving, thrashing, ecstatic take on the Kinks' classic You Really Got Me," DV "probably best of a long line of Van Halen covers." DBW In a completely different vein, they deliver "the lounge-y Vegas start and blistering hard rock finish of Ice Cream Man." DV Both covers "remain awe-inspiring to this day." AMG
You Really Got Me
Part of the album's success is due to producer Ted Templeman. "The sound is marvelous," DBW "the hooks are huge," DBW and "the excitement of their live show was captured perfectly." AMG He "balances massive guitars with a thundering rhythm section…, light but effective use of studio tricks…, and performances that are precise without being clinical." DBW
"Van Halen proved to be the ultimate coming-of-age soundtrack to many a teenager since its release." AMG It is "one of the ultimate party albums over the years, since the overall mood is excited and celebratory." AMG "Everyone on the planet should own a copy of this landmark release." AMG "It forever reshaped the landscape of hard rock – not to mention the repertoire of an entire nation of air-guitar players." DV
---
Review Source(s):
---
Related DMDB Link(s):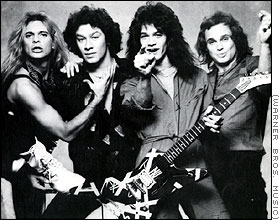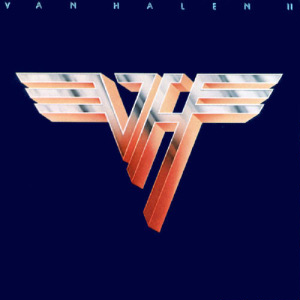 ---

Click on box above to check out the DMDB on Facebook.
---
Last updated December 1, 2012.