Review:
"Graduation's pre-leak talk wasn't as substantive as it was with Kanye West's first two albums. As with just about any other artist's third album, it had to be expected. The College Dropout was one of the most anticipated debuts of the early 2000s, while Late Registration had people wondering why Kanye would feel the need to work so extensively with multi-instrumentalist rock producer Jon Brion (the J Dilla of the chamberlin) and whether or not Kanye's hubristic tendencies would get the better of it. With Graduation, there was Takashi Murakami's artwork, a silly first-week sales competition with the decreasingly relevant 50 Cent, and chatter about synthesizers running wild. That was about it, but it all seemed loud and prevalent, due in part to a lack of high-profile rap albums released in 2007" (Kellman).

"Graduation is neither as bold nor as scattered as The College Dropout, and it's neither as extroverted nor as sonically rich as Late Registration. Kanye still makes up for his shortcomings as an MC and lyricist by remaining charmingly clumsy, frequently dealing nonsense through suspect rhyme schemes: 'I never be picture-perfect Beyoncé/Be light as Al B. or black as Chauncey/Remember him from Blackstreet, he was black as the street was/I never be laid-back as this beat was'" (Kellman).

"The songs that are thematically distanced, introspective, and/or wary – there are many of them – are, in turn, made more palatable than insufferable. That his humor remains a constant is a crucial aspect of the album, especially considering that most other MCs would sound embittered and hostile if they were handling similar subjects, like haters new and old, being a braggart with a persistent underdog complex, getting wrapped up in spending and flaunting, and the many hassles of being a hedonist" (Kellman).

"Those who have admired Kanye as a sharp producer while detesting him as an inept MC might find the gleaming synth sprites, as heard most prominently throughout Flashing Lights and Stronger, to be one of the most glaring deal-breakers in hip-hop history. Though the synthesizer use marks a clear, conscious diversion from Kanye's past productions, highlights like I Wonder, The Glory, and Everything I Am are deeply rooted in the Kanye of old, using nostalgia-inducing samples, elegant pianos and strings, and gospel choirs. So, no, he's not dreaming of fronting A Flock of Seagulls or joining Daft Punk. He's being his shrewd, occasionally foolish, and adventurous self" (Kellman).
---
Review Source(s):
---
Related DMDB Link(s):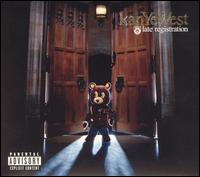 ---
Last updated December 24, 2008.