Review:
"Harmony Hotel marks the third release for young Andrew and David Williams (the Williams Brothers), who are joined by a full band for this release. The brothers' affinity for acoustic instruments, refined arrangements and understated vocal harmonies is showcased on this album, which follows a two year period of travels and live performances" (Krbechek).

"The sound on Harmony Hotel is reminiscent of The Rembrandts (whose self-titled debut release was dynamite), although it lacks any stand-out singles. Instead, the Williams Brothers present a steady (if somewhat predictable) batch of slower acoustic numbers, all featuring their two-part vocal harmonies" (Krbechek).

"The album tends towards a gentler, coffee-house sound, with smooth production work courtesy of associate producer/guitarist Marvin Etzioni (formerly of Lone Justice). Harmony Hotel is a fine easy-listening album, and fills an otherwise overlooked niche, as acoustic folk music has all but faded from sight" (Krbechek).
---
Review Source(s):
---
Related DMDB Links: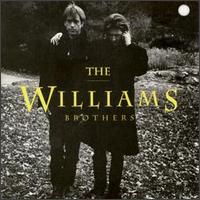 ---
Last updated January 18, 2009.