Review:
"The story of Back to Black is one in which celebrity and the potential of commercial success threaten to ruin Amy Winehouse, since the same insouciance and playfulness that made her sound so special when she debuted could easily have been whitewashed right out of existence for this breakout record." JB Instead, her sophomore effort "is one of the finest soul albums, British or otherwise, to come out for years." TK
Newsweek magazine hailed her "as a cross between Billie Holiday and Lauryn Hill." AZ The New York Daily News said the album "would do Etta James proud" AZ and New Yorker magazine called her "a fierce English performer whose voice combines the smoky depths of a jazz chanteuse with the heated passion of a soul singer." AZ Finally, Spin magazine said, "there's never been A British star quite like her." AZ
"Frank, her first album, was a sparse and stripped-down affair; Back to Black, meanwhile, is neither of these things." TK "As before, Winehouse writes all of the songs from her experiences, most of which involve the occasionally riotous and often bittersweet vagaries of love. Also in similar fashion to Frank, her eye for details and her way of relating them are delightful." JB
However, this album "smolders with a bristling fusion of old school doo-wop/soul inflected uprisings," AZ finding "her deserting jazz and wholly embracing contemporary R&B, all the best parts of her musical character emerge intact, and actually, are all the better for the transformation from jazz vocalist to soul siren." TK "This time around, she's taken her inspiration from some of the classic 1960's girl groups like the Supremes and the Shangri-Las, a sound particularly suited to her textured vocal delivery, while adding a contemporary songwriting sensibility" TK and offering up "her brassy mix of emotive vocals tinged with…sly funk, and anguished jazz." AZ
"With producer Salaam Remi returning from Frank, plus the welcome addition of Mark Ronson (fresh off successes producing for Christina Aguilera and Robbie Williams), Back to Black has a similar sound to Frank but much more flair and spark to it." JB "Winehouse was inspired by girl group soul of the '60s, and fortunately Ronson and Remi are two of the most facile and organic R&B producers active. They certainly know how to evoke the era too; Remi's Tears Dry on Their Own is a sparkling homage to the Motown chestnut 'Ain't No Mountain High Enough,' and Ronson summons a host of Brill Building touchstones on his tracks." JB
"The knockout first single" JB and instant classic, Rehab, is "a gospel-tinged stomp" TK which won the Grammy for song and record of the year. In light of her substance abuse problems since, one may cringe at lines like "they tried to make me go to rehab/ I won't go, go, go," but it provides an authenticity an iconic nature most artists will never accomplish with a song.
"As often as not, though, the songs on Back to Black are universal, songs that anyone, even Joss Stone, could take to the top of the charts, such as Love Is a Losing Game or the title song ('We only said good bye with words, I died a hundred times/You go back to her, and I go back to black')." JB The latter "is a heartbreaking musical tribute to Phil Spector, with it's echoey bass drum, rhythmic piano, chimes, saxophone and close harmonies." TK
"Best of all, though, is the fact that Back to Black bucks the current trend in R&B by being unabashedly grown-up in both style and content. Winehouse's lyrics deal with relationships from a grown-up perspective, and are honest, direct and, often, complicated: on You Know I'm No Good, she's unapologetic about her unfaithfulness. But she can also be witty, as on Me & Mrs Jones when she berates a boyfriend with 'You made me miss the Slick Rick gig'. Back to Black is a refreshingly mature soul album, the best of its kind for years." TK
---
Review Source(s):
---
Related DMDB Link(s):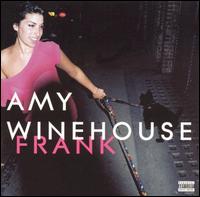 ---
Rehab (video)
---
You Know I'm No Good (video)
---
Back to Black (video)
---
Tears Dry on Their Own (video)
---
Valerie (video)
---
Love Is a Losing Game (video)
---

Click on box above to check out the DMDB on Facebook.
---
Last updated July 24, 2011.