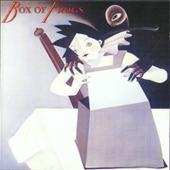 Released: June 1984
---
Rating:

---
Genre: rock > British
---
Quotable: --
---
Album Tracks:
Back Where I Started [3:51]
Harder (Fiddler/Majors) [3:37]
Another Wasted Day [4:16]
Love Inside You (Fiddler) [2:47]
The Edge [4:00]
Two Steps Ahead [4:31]
Into the Dark [4:07]
Just a Boy Again [5:38]
Poor Boy [4:15]
Songs written by Dreja/ Fiddler/ McCarty/ Samwell-Smith unless indicated otherwise.
---
Sales:
---
Peak:

45


--
---
Singles/Hit Songs:
Back Where I Started (6/30/84) #14 AR
---
Notes: After a 1983 live gig, original Yardbirds' members Jim McCarty, Chris Dreja, and Paul "Sam" Samwell-Smith got together with vocalist John Fiddler and recorded two albums as Box of Frogs. The two albums (this one and follow-up Strange Land) have since been paired together on CD reissue.
---