Review:
"Fly from Here is the band's first studio album since the release of Magnification (2001), the longest gap to date between two Yes studio albums." WK This also marks only the second time in Yes history that Jon Anderson is not the lead singer. He "suffered a series of asthma attacks in 2008 and the band's 40th anniversary tour was put on hold. Over time, Anderson grew apart from the rest of the band since he wanted to rest and the other guys really wanted to tour. Enter Canadian singer Benoît David who had fronted the Yes tribute band Close to the Edge" JG "for over ten years." WK
"The absence of Jon Anderson is well-felt" UR although "the optimistic platitudes found in the lyrics faintly mirror the Anderson poetry of old, even if it comes in a more generic form: 'Every day that you waste is once more that you've lost,' 'Turn yourself around / turn your life around / turn your world around / turn this ship around' and 'I want to be the one / who always gives you shelter.' Tolstoy in motion, it is not. Yes' extended works always promise to be more than a string of unrelated ideas, but just know that this isn't the 'Gates of Delirium.'" JG
The only other time Anderson wasn't on a Yes album was for 1980's Drama. Trevor Horn served as the vocalist then and is actually back again, this time in a production capacity. He also produced 1983's 90125 and 1987's Big Generator. Incidentally, David "sounds more like Trevor Horn than Jon Anderson." HD
This album also marks the return of keyboardist Geoff Downes, whose only other album with Yes was Drama. Oliver Wakeman, the son of longtime Yes keyboardist Rick Wakeman, toured with Yes in recent years and even contributed some writing and recording on Fly from Here before Downes stepped in to handle "most of the keyboards." WK The "piano and keyboards are in much more of a supporting role, but Geoff Downes plays very well and adds new layers to the soundscape." HD His work has also been said to be "less effective and less impressive when compared to the synth job he did for Drama." UR
Bassist Chris Squire (the only Yes member featured on all of their albums), guitarist Steve Howe, and drummer Alan White round out the lineup. All three were part of the classic Yes lineup from 1971 to 1979 and the 1980 Drama album, originally assumed to be the band's last hurrah. However, Squire and White kept the band going through the 1980s with Trevor Rabin on guitar. The trio reunited in 1997 and have worked together since.
Depending on one's point of view, "Squire's bass lines are very strong" HD or "he sounds old and slow." UR White's "drumming on the album is surprisingly muted and inoffensive in the mix, and keeps the beat effectively." HD
This album also ties to the Drama era because of the title cut which is based on a song from that era. "Downes and Horn had first approached Yes with a demo of their song 'We Can Fly from Here' in 1980, prior to joining the band." WK It was "recorded as a studio demo, and left off Drama, but was performed on the album's supporting 1980 tour. A live version from that year appears on The Word Is Live (2005). After Yes disbanded in 1981, Horn and Downes recorded another demo of the song (this time as a two-part suite) for possible inclusion on The Buggles' second album Adventures in Modern Recording (1981) but it was also left off the album." WK It was, however, included on a 2010 reissue of the album.
"This new Yes version will mark the first airing of a finished studio recording of Fly from Here, with Parts I and II based on the earlier two parts of the song. According to Squire, the title track will be the band's eleventh epic piece, their first in 15 years, which clocks in at nearly 25 minutes." WK The suite is "much more focused on vocals over instrumental passages, but this works in its favor and is surprisingly refreshing. Given its beginnings as a Buggles composition, it makes sense that it's more vocal-centric." HD
It "has a steady rise and fall not unlike Drama's opener 'Machine Messiah', making sure that every note and lyric serves its scene-setting purpose. There's something about this carefully-measured approach to writing extended progressive rock, one that flies in the face of the more organically-minded elastic forms of Tales from Topographic Oceans and Relayer, that feels slightly stifling." JG
"Steve Howe is less present both compositionally and aurally in this suite…In previous Yes albums he often collaborated with Jon to compose a lot of the songs, so perhaps Jon's absence is detracting from his contributions." HD His playing on the piece has been described both as "spectacular" HD and "mediocre, with no standout solo or new technique." UR
The suite "begins with an overture that introduces several key motifs of the piece, predominantly those later heard in 'Madman at the Screens'." HD The piece is marked by "dynamic and containing contrasting piano and guitar" HD and some "very Drama-esque snare hits accentuate the rhythm." HD
"In the next section, We Can Fly, ambient sound effects and soft piano introduce the first vocals on the album." HD One review says, "Benoit's voice is lifeless, uninspired and boring" UR while another says "Benoit has a truly beautiful voice" HD and that "his harmonies with Chris and Steve also work very well. Anderson purists may dislike the difference in the sound of the vocals without Jon…but…compositional strength…definitely isn't lacking here." HD
"The main chorus, with Chris and Steve providing strong backing vocals, is very impressive and memorable. Not only is this a testament to the skill of the musicians, but Trevor Horn's excellent production. Trevor creates a very subtle and well-balanced mix that compliments the music perfectly." HD
"The second part, Sad Night at the Airfield, begins with understated acoustic guitar and vocals, the melody almost melancholic, but soon builds into a plaintive threnody, a tonal shift which completely alters the feel of the piece, and the song continues to alternate between these two themes." HD
"Madman at the Screens expands on the themes introduced in the overture with more vocals from Benoit. Along with the vocals, the bass lines and keyboards really carry this section, and it has a more aggressive edge. Concluding the section is the main piano and vocal-led theme from earlier." HD
"Bumpy Ride is the most progressive section in the suite, though it is very brief." HD It has moments reminiscent of "'Tempus Fugit' on Drama."

"In We Can Fly Reprise the chorus from the first section is briefly revisited. The re-emergence of this theme is truly stunning and powerful, concluding the suite beautifully." HD

"The second half of Fly from Here is tame and unassuming by comparison. Howe's distorted power chords and White's tricky meters largely go into hiding on tracks like 'The Man You Always Wanted Me to Be' and 'Hour of Need'…These songs are representative of Yes' purgatory state, one that flirts with concise pop forms but is afraid to fully commit to them." JG

The Man You Always Wanted Me to Be "is much more acoustic and light. Chris sings lead vocals on this track, and sounds quite good." HD His "vocal delivery obviously comes from a personal place" JG and "Benoit provides excellent harmony. While it's not the most amazing composition, the musicianship elevates it to a good track." HD

Life on a Film Set is also a reworking of a song from around the Drama era. The Buggles' reissue of Modern Recording also featured a demo called "Riding a Tide", upon which "Film Set" is based. WK "Though it probably wasn't written with Yes in mind, it seems to fit the Squire/Howe/White approach like a glove even if the song isn't impressively memorable" JG and "seems to meander and ends before it can really get anywhere interesting." HD

"Hour of Need begins with excellent acoustic guitar and pleasant vocals" HD "Howe's lyrics…are cynicism without a target – ends justifying means, mouths to feed, so on." JG

"Solitaire is "an acoustic solo piece by Steve Howe" WK "in the vein of 'The Clap' and 'Mood for a Day' and is easily as enjoyable as those two songs." HD It also marks "one of the first Howe solo tracks to be used on a Yes album since 1991's Union." JG

"Into the Storm is probably the strongest ensemble song aside from the title track." HD It's here where "Yes sounds the most surefooted and perked." JG "It's more of an upbeat rocker." HD "The harmonies between David, Squire and Howe are very enjoyable, and there's even a catchy synth riff." HD Howe and the keyboardist (whether its Wakeman or Downes), "match on a theme centered on a broken chord, one that gives the song drive and the album some much-needed momentum. As far as the lyrics go, you can say that humility has finally arrived to Yes: 'One thing I learned from all these years / as stupid now as we were at first / maybe that's the way it goes / when you try to change the world.'" JG

"The entire sound is reminiscent of Drama, yet where Drama had a harder edge, Fly from Here is softer, taking you through sweeping vistas of themes and melodies that will remain ingrained in your mind long afterwards." HD As one detractor says, though, at least Drama "had some good rock songs. This album…doesn't have a single good song." UR "Most Yes fans have been used to bad albums from about 1983 to the present. This is one of the worst." UR

However, another reviewer says, "Fly from Here is not a disaster. It has too much enthusiasm for itself to sink like some of Yes' more embarrassing transitional albums. At the same time, it's overall less tuneful than The Ladder or Magnification and less moody and compelling than their '70s work." JG However, "the real question is: does this lineup of Yes have potential? They do." JG
---
Review Source(s):
---
Fly from Here (live 1980 version)
---
We Can Fly (audio only)
---
Related DMDB Link(s):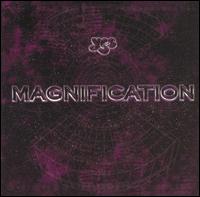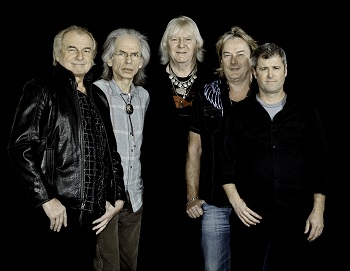 ---

Click on box above to check out the DMDB on Facebook.
---
Last updated July 16, 2011.